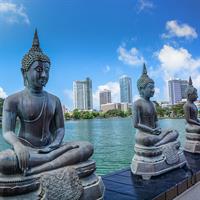 Bounded by Asia (India), Africa, Australia, and Antarctica, the Indian Ocean prides itself with precious clear beaches, turquoise waters, stunning islands, and marvelous scenery, being frequently considered one of the most appealing marine destinations on Earth.


Africa is a world of its own. From the deserts of Morocco to the pyramids of Egypt, from the Kenya bush to Victoria Falls, and especially the beautiful country of South Africa, this massive continent offers something for everyone.


The Middle East is one of the world`s most complex regions. It is also probably one of the least-traveled regions in the world, due to decades of wars and turmoil. However, there are amazing destinations throughout this area offering magical experiences and incredible local customs, culture and history to be explored.


Escaping to some of the simply stunning Idyllic Islands in the South Pacific puts visitors in the heart of a tropical paradise. Whether it be the luxurious Bora Bora with its tropical turquoise lagoons or the sun-soaked Yasawa Island with breathtaking scenery, these islands are sure to provide ultimate relaxation with endless beaches, and translucent tropical waters.


Taking a majestic river cruise along the wonderful winding waterways in Asia is a great way to explore the stunning scenic surroundings. A river cruise journey puts passengers at peace and allows the opportunity to absorb the unforgettable beauty of Asia, the world`s biggest continent.


Experience the north of Thailand as you travel through its verdant countryside dotted with rice paddies, attractive landscapes and a natural environment that is not found anywhere else in the country. Visit remote longneck hill tribe villages and explore the most impressive temples.