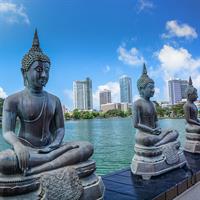 Bounded by Asia (India), Africa, Australia, and Antarctica, the Indian Ocean prides itself with precious clear beaches, turquoise waters, stunning islands, and marvelous scenery, being frequently considered one of the most appealing marine destinations on Earth.


Escaping to some of the simply stunning Idyllic Islands in the South Pacific puts visitors in the heart of a tropical paradise. Whether it be the luxurious Bora Bora with its tropical turquoise lagoons or the sun-soaked Yasawa Island with breathtaking scenery, these islands are sure to provide ultimate relaxation with endless beaches, and translucent tropical waters.


Break away and discover the soul of some of the most visited cities in the world, combined with the most idyllic and relaxing island retreats. The perfect complement to the other! Maximize your holiday combining the modern cosmopolitan delights of a city escape with the unique and exotic experience of a tropical beach.