Dunedin Vacation Packages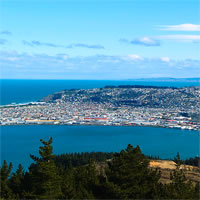 Dunedin, the South Island`s second biggest city, is full of historic sights, beautiful beaches and interesting scenery. It`s easily New Zealand`s best city with many fun things to do, both in the city center and the surrounding area.
Best Dunedin Vacation Packages:
Points of Interest
Map of Point of Interest
More to Explore
Experience the Geothermal Wonders of Rotorua! ...and enjoy a unique thermal spa experience in its relaxing hot mineral spring bathing, spa therapies, teaming cliffs, volcanic craters, picturesque lake views and many more geothermal features.

This is one of the few glaciers in the world not receding because of global warming. The scenery changes every day on the glacier because it is constantly moving and new routes are always being made.
See All More to Explore