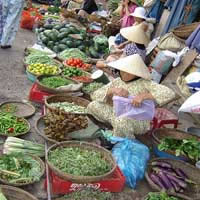 Dry Season: Nov - Apr / Warm, little rain
Rainy Season: May - Oct / Rainy, humid, hot
Situated in Southern Vietnam, Ho Chi Minh is subject to a monsoon climate with two seasons, wet and dry. Different from Hanoi in the North with a cool winter, Saigon is warm year round. Fortunately air conditioning is standard throughout the city.
In March it starts getting progressively hotter and more humid, reaching the low 90's by the end of April. Summer is right in the middle of the rainy season, so it rains a lot. Short heavy downpours followed by sunshine, followed by more rain, is the typical rainy season pattern.
The best time to visit Ho Chi Minh is during the dry season, particularly from November through March.
There are a couple of important holidays that you should consider before planning your trip to Hanoi. Liberation Day (April 30) celebrates the reunification of Vietnam following the end of the American War in 1975. You can expect closings and several festivals around the date.
The largest national festival, Tet Nguyen Dan, starts at the beginning of the year (January or February depending on the lunar calendar). Streets burst with color and festivities last at least a week. Expect closings, transportation systems and hotels to be full, and roadways crowded.