Dallas, TX: Point of Interest Map
Dallas, TX Vacations Packages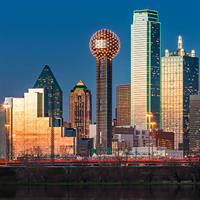 Dallas, Texas is a metropolitan city in the north of the state that offers the perfect blend of the contemporary and the cultural. The city has a huge art and music scene, but is also a place of historical significance, following the assassination of John F. Kennedy on a visit here in 1963, putting Dallas in the international spotlight. Apart from the citys friendly ambiance, there are lots of things to see for the young and the young at heart. Those fascinated by Dallas history will find plenty to do here, as will anyone with a love of sports and the arts. Quirky, vibrant and trendy are just some of the words regularly used to describe the city, so if that sounds like somewhere you would like to explore further, take a look at our top things to do in Dallas in a day.
Best Dallas, TX Vacation Packages:
Map of Dallas
Map of Point of Interest
More to Explore
Striking, spirited and fabulous. California, a synonym of spontaneity, where sun, surf and roller coasters meet to make of this place a fantastic vacation destination. Along with its eminent Golden Bridge wrapped in foggy clouds that offer visitors one of the most iconic views of the USA.

A trip to Las Vegas is one of those quintessential American experiences. From the bright lights of the Strip to the world-class museums, this little Nevada city is everything you`d expect it to be and so much more!
SUGGESTED Dallas, TX VACATION PACKAGES:
Highlights of Texas and New Mexico (Self Drive)

8 nights from $979*

Take Texas and New Mexico into your own hands, travelling between this popular cities with a rental car. Visit Houston (the fourth-largest city in the U.S., known as the world capital of space exploration and home of NASA Mission Control and astronaut training), Dallas (home to one of the largest metropolitan areas in the country and some of the best shopping in the Central U.S.), Amarillo (`The Yellow Rose of Texas` known for the Palo Duro Canyon and the Cadillac Ranch), Santa Fe (one of the most artistic cities in the United States, and a UNESCO Creative City) and Albuquerque (whose modern Downtown core contrasts with Old Town Albuquerque and sits in the high desert). This is a flexible vacation package. Select your number of nights in each city, desired hotel and activities.

Included:

Flight into Houston and out of New Mexico Airport
Rental Car for 9 days
Hotel for 2 nights in Houston
Hotel for 2 nights in Dallas
Hotel for 1 nights in Amarillo
Hotel for 1 nights in Santa Fe
Hotel for 2 nights in Albuquerque

---

---

Oklahoma City to Dallas (Self Drive)

7 nights from $885*

Venture through the beautiful Oklahoma and Texas exploring its natural landscapes and nightlife with a rental car. Combine Oklahoma City, (the bustling capital city known as `The Big Friendly` features top attractions, many of which can be found in the historic district of Bricktown), Lawton and Dallas (is a popular metropolis featuring excellent museums, fantastic dining options, and a wide variety of notable architecture). This is a flexible vacation package. Select your number of nights in each city, desired hotel and activities.

Included:

---

---
CUSTOMER REVIEWS
4.7 out of 5 stars
►
1 Reviews
Cities in the United States