Founded by Romans around the only naturally-occurring hot springs in the United Kingdom, Bath is one of the most beautiful cities in the country, and has been declared a World Heritage Site by UNESCO. Much of the architecture of Bath dates from the 18th century, and the city is famous for its many fine examples of Georgian architecture, most notably the Royal Crescent. Nowadays it is a fashionable spa resort.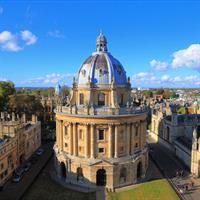 Oxford is known as being the home of the University of Oxford, the oldest university in the English-speaking world. It is surnamed the `city of dreaming spires` due to the harmonious architecture of the university buildings. Oxford offers besides historical sights and several good museums, a vibrant shopping and commercial area with plenty of shops, restaurants and cafes.


The city of Cambridge is a unique community, a blend of cultural and social diversity, intellectual vitality and technological innovation. Cambridge is best known for the University of Cambridge, one of the most prestigious universities in the English-speaking world. One of the most impressive buildings in Cambridge, King`s College Chapel, begun in 1446 by King Henry VI.