Bolzano Vacation Packages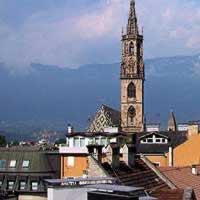 Once belonging to Austria, Bolzano has only been part of Italy since the end of World War I. It is a fascinating city at crossroads between Italian and Austrian cultures. The city's Austrian character, enhanced by the narrow cobblestone streets, Austrian-style churches give Bolzano an unique charm. The main attractions are: the Gothic Cathedral dating from 1184, Walther von der Vogelweide Platz, the Archeological Museum, which hosts the Ötzi mummy and various beautiful castles.
Best Bolzano Vacation Packages:
Bolzano
Map of Point of Interest
See All Regions in Italy
More to Explore
These packages are perennial favorites. They save us valuable research time and give us a sense of what travelers like us enjoyed in the past.

Unbelievable landscapes, amazing hill towns, charming seaside Villages, gorgeous lakes and spectacular mountains!
See All More to Explore