WHY COLLE VAL D`ELSA?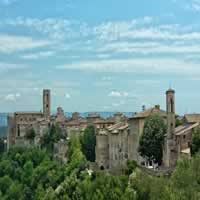 Colle di Val d`Elsa is a town located above the valley of the river Elsa on the route of the ancient Via Francigena, the mediaeval highway frequented by pilgrims and merchants travelling to Rome from Canterbury and elsewhere in northern Europe. Major archaeological finds in the area date as far back as the 4th millennium BC, but the first documents mentioning Colle di Val d`Elsa are from the 10C, as is typically the case for Tuscan settlements.

The town was originally made up of three independent areas with separate structures and urban arrangements: Borgo di Santa Caterina, Castello di Piticciano and Piano. The two oldest settlements are both situated on the same hilly ridge which runs from east to west and, separated by a wide valley, and dominate the valley floor which is home to the third `hamlet`, Piano, which has a more recent urban structure built specially to accommodate manufacturing activities. Colle di Val d`Elsa became known as the Bohemia of Italy in the 19th century. Today it is an authentic `Crystal City`, producing 15% of the world`s crystal.