Lagos Vacation Packages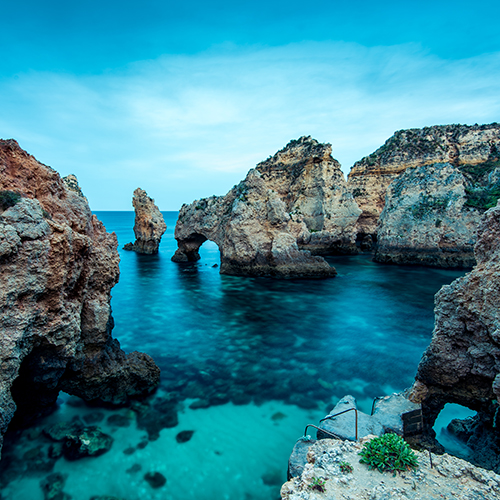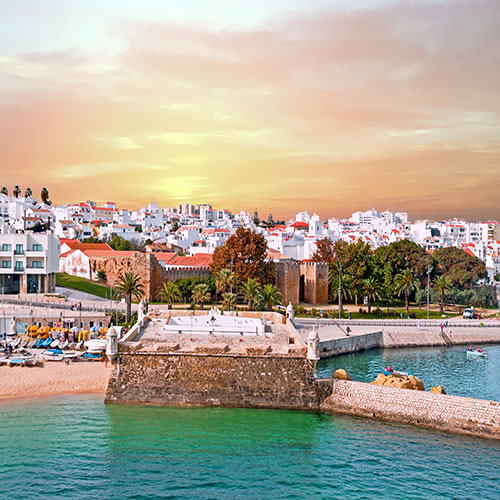 Located at the mouth of the Bensafrim River just before it flows into the Atlantic Ocean, the city of Lagos boasts a very storied history. For many, Lagos represents the Golden Age of Portuguese Discovery, as Henry the Navigator used Lagos as a home base to conquer such longtime Portuguese holdings as Madeira and the Azores.
Today Lagos is known as a place to have fun in the sun, and areas such as the Ponta da Piedade are known the world over for their beautiful, crystal blue waters. Recently Lagos was named one of the `top 15 world destinations on the rise`, and with all the city has to offer, it`s easy to see why!
Best Lagos Vacation Packages:
Map of Lagos
Map of Point of Interest
See All Regions of Portugal
SUGGESTED LAGOS VACATION PACKAGES:
Lisbon and The Algarve via The Alentejo Coast

7 nights from $1,189*

With this flexible vacation package, Portugal and its highlights are within your reach!. Combine stays in Lisbon (the dazzling capital with charming neighborhoods with local culture and festivals); after that, explore Lagos (located in the stunning Algarve where sun, sand, and adventure abound). Continue this journey to your last destination, on the southernmost city of the country; in Faro (the capital of the area, with sunny beaches and a pretty walled Old Town). Private transfers will take you between these cities and along The Alentejo Coast and The Algarve, with stops at Alcacer do Sal and Sao Lourenco de Almancil. This is a flexible vacation package. Select your number of nights in each city, desired hotel and activities.

Included:

Flight into Lisbon and out of Faro
Hotel for 3 nights in Lisbon
Transfer from Hotel in Lisbon to Hotel in Lagos via Alcacer do Sal
Hotel for 2 nights in Lagos
Transfer from Hotel in Lagos to Hotel in Faro via Church of Sao Lourenco de Almancil
Hotel for 2 nights in Faro

---

---

Seville and Lisbon via The Algarve and The Alentejo Coast

10 nights from $1,539*

Explore southern Spain and Portugal with stops at some truly hidden gems along the way, a great introduction to some of the most inspiring and historic cites of each country. Have a wonderful time in Seville (famous worldwide for its culture, monuments, traditions and flamenco dance); after that, in Portugal, visit; Faro (the southernmost and capital city of the Portugal's Algarve region); then, continue to Lagos (located also in the stunning Algarve; where sun, sand, and adventure abound); and finally, Lisbon (the Portuguese and charming capital city). This is a flexible vacation package. Select your number of nights in each city, desired hotel and activities.

Included:

Flight into Seville and out of Lisbon
Hotel for 3 nights in Seville
Transfer from Hotel in Seville to Hotel in Faro via Huelva
Hotel for 2 nights in Faro
Transfer from Hotel in Faro to Hotel in Lagos via Alte
Hotel for 2 nights in Lago
Transfer from Hotel in Lago to Hotel in Lisbon via Alcacer do Sal
Hotel for 3 nights in Lisbon

---

---

Lisbon and The Algarve with Rail Pass

7 nights from $1,441*

Take the Rail Pass Train between destinations and enjoy a fantastic trip along Portugal, visiting: Lisbon (the capital of Portugal; with beautiful neighborhoods full of amazing food, shops, leisure activities and quaint local festivals); then, Lagos (located in the stunning Algarve where sun, sand, and adventure abound); and finally, the southernmost city of the country and also capital of The Algarve Region; Faro (with sunny beaches and a pretty walled Old Town). This is a flexible vacation package. Select your number of nights in each city, desired hotel and activities.

Included:

Flight into Lisbon and out of Faro
Railpass: 3 non-consecutive days
Hotel for 3 nights in Lisbon
Hotel for 2 nights in Lagos
Hotel for 2 nights in Faro
Please Note: A Railpass is not a ticket. You will need to go to the train station on your day of departure in each destination to activate the pass for that day and purchase your seat reservations.

---

---
CUSTOMER REVIEWS
4.7 out of 5 stars
►
5 Reviews
This is the second time we have used tripmasters to plan our vacations. We went to Portugal in December and had a wonderful time. The hotels were al ...

Traveled on: December 27

The hotels were very nice. It was easy to check in, nice to not have to pay anything at the hotel. Everything was seamless. The only issue was that I ...

Traveled on: August 23

Offer bus and train tickets.

Shengrong L ...

Traveled on: July 14

Regarding to the two hotels I stayed in Lisbon, I liked The Expo Artoria better than Florida. The bathroom of the Hotel Florida was so small. Especi ...

Traveled on: June 09

More non stop flights in the packages would be great!

Lori P ...

Traveled on: June 07