Lake Maggiore Vacation Packages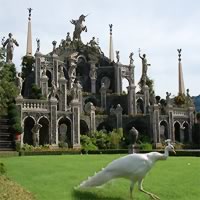 Italy`s second-largest lake, and one of its most popular, Lake Maggiore is a long, thin lake on the south side of the Alps, shared by Italy's Piedmont and Lombardy regions and Switzerland's Ticino canton and runs about 40 miles long. It's noted for its picturesque surroundings of greenery-filled mountains. Some of the towns along the shores of Lake Maggiore which are worth noting are Stresa, Cannobio, Arona, Verbania, and Baveno. The 3 tiny, popular Borromean Islands, with terraced gardens and aristocratic villas, can be reached by boat from Stresa, one of the larger lake towns.
Best Lake Maggiore Vacation Packages:
Map of Lake Como
Map of Point of Interest
See All Regions of Italy
›
Other Italian Lakes
The largest lake in Italy, and touches three northern regions: Trentino-Alto Adige, Veneto, and Lombardy. It`s about halfway between Venice and Milan. Notable towns along Lake Garda are Riva del Garda, Garda, Sirmione, Malcesine, and Desenzano del Garda.