Monteriggioni Vacation Packages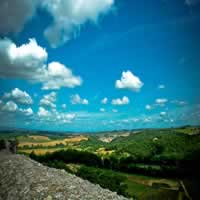 Situated at the northern end of the region, Monteriggione occupies the peak of a small, rolling hill covered with cultivated slopes, vineyards and olives. Monteriggione represents one of the most important walled castles in the territory, both exterior walls and the buildings within are some the best preserved in all of Italy, attracting tourists, architects, medieval historians and archaeologists. The intact fortified wall presents 14 towers and 2 gates. The town appears to float above the valley at night due to the hillside walls and towers being lit from below with light.
Regions of Tuscany
In the center of Tuscany - a charming hill-covered region offering a picturesque landscape of small stone villages, sprawling vineyards and olive groves.

South of Siena - Hill towns, valleys, medieval castles guarding narrow road passes and isolated farmhouses. Perhaps Tuscany`s most captivating and picturesque region.
Relatively uncrowded between Florence and Pisa - Towns with true architectural beauty and charm: mazes of narrow streets, Romanesque churches and beyond them stretches a land of genteel spas such as Montecatini Terme.
See All Regions of Tuscany
›