Salamanca Vacation Packages

Momentous landmarks, historic towns and villages, plus delicious cuisine and great wine, beautiful flamenco dancers and vibrant nightlife! Endless possibilities!

Experience a different side of Europe: spend some time in your favorite European City and then a couple of days relaxing in one of Europe's most popular beach destinations.

Birthplace of many ancient civilizations, a land drenched in warm sun, surrounded by a calm, rich sea. It is composed of Greece, Italy, Spain and Turkey.
WHY SALAMANCA?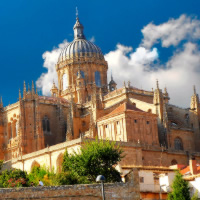 This ancient university town north-west of Madrid has been designated a World Heritage Site by the UNESCO. The Carthaginians first conquered the city in the 3rd century B.C. It then became a Roman settlement before being ruled by the Moors until the 11th century. The university, one of the oldest in Europe, reached its high point during Salamanca's Golden Age. Beginning with the Roman Bridge that spans the River Tormes southwest of the city, numerous structures still testify to the 2000 year-old history of antique Salmantica. The remarkable examples include the Old Cathedral and San Marcos (12th century), the Salina and the Monterrey Palaces (16th century), and above all the Plaza Mayor (1729-1755).

But the city owes its most essential features to the University. The remarkable group of buildings in Gothic, Renaissance, and Baroque styles, which, from the 15th to 18th centuries, rose to the institution that proclaimed itself "Mother of Virtues, Sciences, and the Arts" makes Salamanca an exceptional example of an old university town in the Christian world, such as Oxford and Cambridge. Today it is Castilla's liveliest city, home to a massive Spanish and international student population that throngs the streets at night and provides the city with so much vitality.

Best Salamanca Vacation Packages:
Multiple Cities
Start again
Find Vacation Packages
Combine cities within Spain

Feedback from our travelers
3 Reviews
Divine !!! Good work guys!

Oscar F ...
Traveled on: July 15
Everything good. Thanks for your pleasant service.

Abel B ...
Traveled on: March 26
Flights, hotels, car- everything worked out well. This was our first trip and we were a bit nervous as to whether or not everything would work out. ...
Traveled on: August 11

Need booking assistance?
We're glad to help:
Call Us 7 days a week
from 8AM to Midnight ET
1-800-430-0484