GUAYAQUIL - NEIGHBORHOODS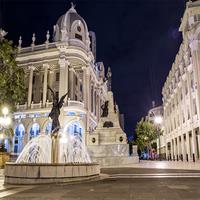 Financial Center
The financial center of Guayaquil is considered a great location to stay in the city. There are lots of hotels including high-end business style hotels and boutique guesthouses found in this district. The bustling streets of the financial district are brimming with restaurants, outdoor cafes, shopping and access to so many attractions. Guayaquil sits on the River and is filled with stunning parks and sparkling plazas surrounded by historic buildings and authentic sights. Visitors will enjoy staying in this area and being close to the popular Malecon 2000 promenade where all of the action can be found during the day and nighttime. Everything is within a close distance, which makes it possible to walk to restaurants for dinner, shops for souvenirs, miradors for sunsets and bars and clubs to enjoy the happening nightlife. There is always something to see and do in this area, visitors never have to go very far during their stay to enjoy what this beautiful city has to offer.
Kennedy
The upscale neighborhood of Kennedy offers visitors a quiet respite from the bustling city center. There is an abundance of hotels in this area which offer great access to the city and are close to the massive Mall del Sol, which is one of the largest shopping malls in South America. Several internationally known hotel chains such as the Hilton, Sheraton, and Howard Johnson are situated out by the mall, some are connected via a covered pedestrian bridge. Kennedy is also situated close to the airport and many other shopping centers as well as within walking distance to other attractions in the city with more shopping and restaurants.
La Puntilla
The La Puntilla is an upscale neighborhood, named after its triangular shape, that sits at the peninsular between the Daule and Babahoyo Rivers in Samborondon, Guayaquil. This is where the rich and famous of Guayaquil reside, including banana tycoon Alvaro Noboa, Ecuador`s richest man. The beautiful Parque Historicio is found in the neighborhood which features Spanish colonial style architecture running along wide boulevards. There is an abundance of shopping opportunities here including upscale shopping malls, retail stores, hypermarkets, and supermarkets. Hotels in the area are within walking distance to the eateries, shopping, and entertainment. The most exclusive nightclubs in Guayaquil can be found in Samborondon and many of the city`s high-end restaurants.