With its stunning symmetrical shape, hot springs and wide range of outdoor activities, Arenal Volcano is one of Costa Rica's must see destinations.

With thousands of species of animals, birds, and plants, this is one of the most extraordinary and important nature reserves in the world.

100 miles of exquisite beaches with accommodations ranging from full service resorts to hideaway boutiques.

Immensely popular destination for sportsmen, outdoor enthusiasts, and animal lovers from the world over.

A popular destination with international surfers, the Jaco Beach Vicinity enjoys a very active nightlife, and a full range of accommodation options.

Nosara-Samara is an ideal destination for independent travelers, and nature enthusiasts, seeking long stretches of stunning and nearly deserted beaches.

One of most spectacular natural wonders of Costa Rica; as the locals say: When God finished painting the sky blue, He washed his paintbrushes in Rio Celeste.

A laid back atmosphere where travelers can unwind, enjoy some great wild life, tropical plants, waterfalls, and if they are so inclined, some world class surfing.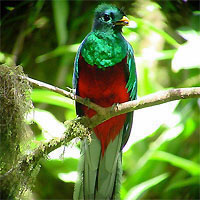 Just 55 miles from the capitol city of San Jose, the Central Valley South, is one of Costa Rica's most beautiful regions.