Comprised to a large degree by the wildly beautiful Corcovado National Park, Osa Peninsula is the premier eco-tourist destination in all of Costa Rica.

The epicenter of activity on Costa Rica's Caribbean coast, known for sensational white sand beaches, lush rainforests, and a wide range activities for all types of travelers.

A popular destination for nature enthusiasts and adventurers, who are drawn to the exhilaration of white water rafting on the Sarapiqui River. The lush vegetation and phenomenal assortment of exotic birds, including the nearly extinct Green Macaw, makes this a bird watchers paradise.

A favorite for honeymoons, bird watching, canopy tours and hiking the nature trails of the Los Angeles Biological Reserve and the Villablanca Cloud Forest.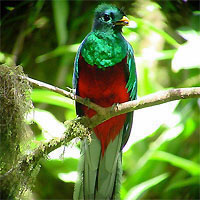 Amid a profusion of massive oak trees, and diverse wildlife, this is where one of Costa Rica's most famous inhabitants lives; the spectacular Quetzal, one of the most striking and mythical birds in the world.

Prime destination for white water rafting, the Pacuare waters flow deep inside a primordial rainforest, through a dense wilderness, and steep gorges. The rainforest provides shelter to jaguars, ocelots, sloths, and numerous wildlife species.

A laid back atmosphere where travelers can unwind, enjoy some great wild life, tropical plants, waterfalls, and if they are so inclined, some world class surfing.

Nosara-Samara is an ideal destination for independent travelers, and nature enthusiasts, seeking long stretches of stunning and nearly deserted beaches.

One of most spectacular natural wonders of Costa Rica. As the locals say: When God finished painting the sky blue, He washed his paintbrushes in Rio Celeste.