1-800-430-0484
Call US 24 hours a day, 7 days a week!
San Cristobal Island - Galapagos: Point of Interest Map
Map of San Cristobal Island

Map of Points of Interest

Situated in the center of the archipelago and the second largest island after Isabela. Capital is Puerto Ayora, the most populated urban centre in the islands.

Situated in the western edge of the archipelago and the largest island of the Galapagos, with an area of 1790 square miles and length of 62 miles.

Floreana is a small isolated island in the Galapagos. It is located in the far southern portion of the archipelago.
WHY SAN CRISTOBAL ISLAND?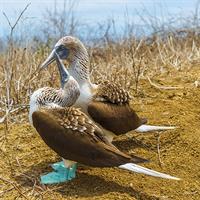 The spectacular San Cristobal Island is the largest and easternmost island in the Galapagos. Brimming with beautiful beaches, hidden coves and an abundance of wildlife such as the blue-footed boobie birds, Galapagos tortoise, and Frigatebirds. There is plenty to see and do on this exciting island including world-class surfing, diving, and bird watching.

FEATURED ITINERARIES:
More details
More details
More details
Find Suggested Itineraries
Combine cities within Ecuador and Galapagos

Feedback from our travelers
9 Reviews
Great job!

Thomas S ...
Traveled on: June 18
Everything went very smoothly. There was always someone ready to pick us up at the airport. When we were being transfered out, we'd either be me ...
Traveled on: July 18
Great experience, terrific hotels, all companies and carriers magically knew we were coming! All great!

Loved Hotel Ikala and Casa Marita especi ...
Traveled on: July 14

Need booking assistance?
We're glad to help:
Call Us 24 hours a day
7 days a week!
1-800-430-0484
* Sample prices displayed include international and domestic airline tickets as per itinerary and ALL airline-related taxes and fuel surcharges and are per person, based on double occupancy, and are dynamic in nature. Prices do not include insurance or delivery charges which are optional and customizable by the traveler. The airfare portion of the itinerary price is based on economy class, midweek departure. Prices do not include fees for carry on or checked baggage which can add additional fees per ticket on a roundtrip flight based on carrier charges. It also does not include any entrance fees or visa fees that may be charged at international airports. Some cities may charge local taxes that can only be collected by hotel at destination.
Prices were accurate at the time we posted them. Sample prices were for a specific travel date and specific departure airport, as indicated. Your prices will vary according to departure cities and travel dates. We do not control prices (airlines and hotel reservation systems do). Prices may change dynamically and at times significantly numerous times during any given day.
Argentina
:
Argentina Tours
,
Trips to Argentina
|
Belize
:
Belize Tours
,
Trips to Belize
|
Brazil
:
Brazil Tours
,
Trips to Brazil
|
Chile
:
Chile Tours
,
Trips to Chile
|
Colombia
:
Colombia Tours
,
Trips to Colombia
|
Costa Rica
:
Costa Rica Tours
,
Trips to Costa Rica
|
Ecuador and Galapagos
:
Ecuador and Galapagos Tours
,
Trips to Ecuador and Galapagos
|
Guatemala
:
Guatemala Tours
,
Trips to Guatemala
|
Honduras
:
Honduras Tours
,
Trips to Honduras
|
Mexico
:
Mexico Tours
,
Trips to Mexico
|
Panama
:
Panama Tours
,
Trips to Panama
|
Peru
:
Peru Tours
,
Trips to Peru
|
Uruguay
:
Uruguay Tours
,
Trips to Uruguay