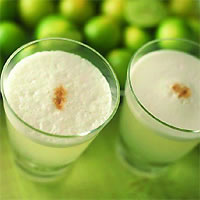 Peruvian cuisine is known as one of the best and most varied in the world. The food is influenced by three different areas of Peru, the coast, the Andean highlands and the jungle, it reflects different times and immigrant cultures.

This mixture of gastronomic cultural influences is well noticed with desserts. From the Christian heritage you have Mantecados (small bread desserts made with pork fat) and Perrunas. From the Arab heritage, you have Alfajores (a dessert made with almonds, nuts and honey) and desserts made with almonds and sugar, which come from the Arab influence.

Today the cuisine combines Pre-Inca and Inca staple diets with the Spanish, African, Basque, French, Asian, British and Italian cuisine which the immigrants brought over with them; a fusion of flavors, culture, and traditions of four continents which blend in harmony and enrich each other. Next to the foreign influences and ethnic diversity, the Peruvian cuisine is characterized by Peru`s unique microclimates. Each region and each town have its own local cuisine and culinary treasures, depending on geography and climate that provide different ingredients native to each area.
FOOD
Starters: The national dish of Peru is Ceviche which is fish (or seafood) marinated and cooked in fresh squeezed lime juice, and served with sweet potato, onions and chili peppers on the side. For Limenos there is no other food on a hot summer day more popular and refreshing than Causa, made of layers of mashed yellow potatoes filled with a variety of vegetables (avocado, onions, Peruvian corn, and chili pepper) and fish (tuna, shellfish) or chicken. Anticuchos de Corazon (grilled beef hearts) are skewered consisting of small pieces of grilled meat that are marinated in lime juice, vinegar and spices like aji (Peruvian chili peppers), cumin and pepper. Papas a la Huancaina, created by a Senora from Huancaino, is a delicious typical Peruvian appetizer consisting of boiled and sliced potatoes with a spicy sauce made with queso fresco (fresh cheese), aji amarillo (Peruvian yellow chili peppers) and milk.

Main Courses: Lomo Saltado fuses Peruvian ingredients with the Asian approach to preparing food. Lomo Saltado is made with sliced beef stir fried with tomatoes, red onions, yellow chilies (aji amarillo), vinegar, soy sauce, and cilantro. Blended with french fries and served with rice and can be found in plain restaurants and gourmet restaurants too. Aji de Gallina is a spicy stew made with hen strips simmered in a creamy yellow sauce made with milk, bread crumbs, parmesan, yellow chilies, garlic, and pecans. Cuy (guinea pig) is Peruvian delicacy and is roasted over a grill with a garlic sauce. Cuy is not for the faint of heart as they are cooked intact with head, teeth, ears, etc.

Desserts: Suspiro a la Limeña is a classic Peruvian dessert. Layered with manjar blanco on the bottom, a sweet caramel-like sauce and covered with fresh meringue. Picarones are sometimes referred to as a donut, but they are actually something quite different and uniquely Peruvian. Created by African slaves by mixing sweet potato, squash and dough and deep fried. Then the Picarones are then served with a cane syrup chancaca.

Drinks: The national drink of Peru is the Pisco Sour which is a sweet and sour cocktail made with Peruvian Pisco (grape brandy) with key lime and simple syrup. If you want a soft drink, give the refreshing Chicha Morada a try. Chicha Morada is made from purple corn, pineapple, quinces (similar to pears), cinnamon, and cloves. Inca Cola is known as `el Sabor of Peru` (flavor of Peru) is made with herba luisa (lemon verbena) and tastes like bubblegum.