STOCKHOLM - NEIGHBORHOODS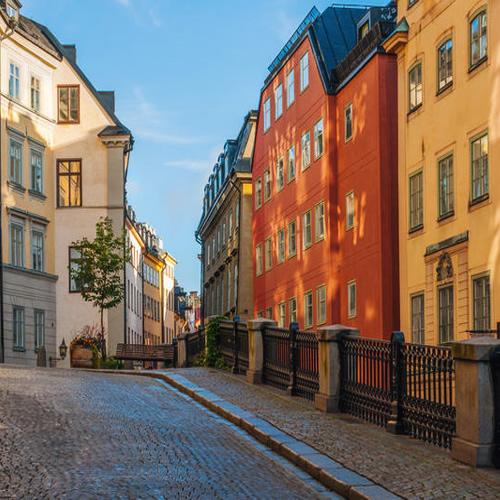 Gamla Stan (Old Town)
Gamla Stan is the historic heart of Stockholm, a picture-perfect island dating back to the 13th century. Narrow streets and cobbled stones surrounded by colorful buildings bring you back in time. Not only is Gamla Stan a great way to experience medieval architecture, it is the hub for tourism activities. This area is packed with pubs, restaurants, jazz and music clubs, souvenir shops and spectacular harbor views. Gamla Stan is also near the royal family`s official palace.
Kungsholmen
The island of Kungsholmen is a great area if you are looking for a quieter stay than the main downtown neighborhoods. You will find lots of open spaces, including public squares and waterfront walking trails popular with joggers seeking a run with a view. The neighborhood is situated between Sodermalm and Ostermalm and offers some restaurants, cafes, and locals, plus a few hip outposts.
Sodermalm
Sodermalm, often referred as `Soder` (literally meaning `South`) is a favorite area amongst many locals. This neighborhood is considered the hub of creativity and imagination in Stockholm, a hot-spot for artists, musicians, hip designers, bohemian cafes, edgy shops, and funky restaurants. Sodermalm is one of the most densely populated areas in Scandinavia, but unlike Gamla Stan, the area started much later when the governor decided to transform the region from agriculture land to working class housing. Therefore, the area will give you a glimpse of the historic Scandinavian architecture from the 1700 and 1800s.
Ostermalm
Ostermalm is the most elegant and exclusive part of town with some of the city`s most impressive buildings, expensive houses, and high-end specialty shops. Said to be the urban playground for the rich, beautiful and often, famous you can sense the posh vibe as soon as you enter this area. You will find many impressive restaurants and bars, as well as some of the best shopping in the city. Ostermalm is also the hub of night activities, with bars and night clubs open until late.

Vasastaden/Normalm
Vasastaden/Normalm Both these areas offer a more modern atmosphere of the city. Vasastaden (The Stone City) is noticeably the massive stone buildings that line the city blocks. This modern Stockholm area is a great place to see how the locals live and offers the most unique architecture Stockholm has to offer. It is exceptionally different from other areas of Stockholm with wider streets and different architectural styles. The area offers local cafes, boutiques, and parks, with a homey neighborhood feeling.

Normalm is a very active district characterized by Stockholm`s active Central Station, the abudance of cultural facilities (Kulturhuset, the Royal Opera, St. Jacobs Church, Sweden House), the shopping crowds in Drottninggatan, and many parks.

Djurgarden
Djurgarden is one of the most touristy areas in Stockholm. Here is where you will find exciting rides (Grona Lund amusement park is here) and live concerts. This area also offers several museums nearby, including the open air museum, Skansen, the Vasa Museum and the ABBA Museum.


Outskirts/Suburbs
South of the City Center has many high-density suburbs spread beside the metro system and the three main highways leading towards Varmdo, Nynashamn and Sodertalje. Closer towards the city center is Grondal, Midsommarkransen and Hammarby, a large modern residential district built in an old harbor.
Northeast Stockholm consists of quiet and affluent suburbs along the highways towards Norrtalji and Uppsala. Here you will find Sollentuna, Taby, Akersberga and Osteraker.
Northwest Stockholm is an expensive district offering high-rise suburbs such as Rinkeby, Tensta and Akalla. Other districts in this area closer to the city center are Sona, Sundbyberg and Kista, the area of Swedish telecom and ICT industry.
East of Stockholm is a vast group of islands that stretch in all directions. Varmdo is located in the center of the islands and can be reached by highway, and thousands of surrounding islands, of which many are permanently inhabited. Many of these islands can be reached by passenger ferries departing from Nybroplan or the Grand Hotel in the city center, or from seaside towns out east. These areas are very popular for residence to spend weekends or have vacation homes so population increases in the summer months.