Asian River Cruise Vacation Packages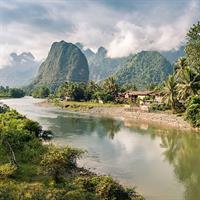 Taking a majestic river cruise along the wonderful winding waterways in Asia is a great way to explore the stunning scenic surroundings. A river cruise journey puts passengers at peace and allows the opportunity to absorb the unforgettable beauty of Asia, the world`s biggest continent. Take a cruise along the mighty Mekong and see the surrounding splendor of beautiful Cambodia, sail through the Three Gorges on the third largest river in the world, the Yangtze River, float along the Pearl River Delta through the three pearls of Macau, Guangzhou, and Shenzhen or take to the River Kwai, the lifeblood of Kanchanaburi.
BEST VACATION PACKAGES
Delightful and Enchanting Asia!!! Fly to the energetic Hanoi, a city that is considered one of the main cultural centers of Vietnam, and visit their prominent Temple of Literature or their many museums around the city. Next, fly to Ho Chi Minh, which is Vietnam`s most lively and joyful city. All the temples and museums, in addition to the beautiful views of this city will definitely make a great impression on each visitor. Then comes Siem Reap featuring a UNESCO World Heritage Site such as the Angkor Wat containing the magnificent remains of the Khmer civilization. Then take a cruise that will take you along the Mekong River where visitors will enjoy the scenery as the river narrows and passes through villages and woodlands. To finish your trip, travel to Phnom Penh, well-known as `The Pearl of Asia,` a city considered one of the loveliest French-built cities in Indochina; here you can see and visit Wat Phnom Temple or The Royal Palace, which are some of the most astonishing architectural buildings in this city. This is a flexible vacation package. Select your number of nights in each city, desired hotel and activities.
Included:
•

Flight into Hanoi and out of Phnom Penh

•

Hotel for 2 nights in Hanoi

•

Flight from Hanoi to Ho Chi Minh

•

Hotel for 2 nights in Ho Chi Minh

•

Flight from Ho Chi Minh to Siem Reap

•

Hotel for 1 night in Siem Reap

•

River Cruise for 4 nights

•

Transfers from meeting point in Siem Reap to ship or vice versa (on river cruise)

•

Entrance fees (on river cruise)

•

English guide service (on river cruise)

•

Main meals and drinks (on river cruise)

•

Hotel for 2 nights in Phnom Penh

•

MONDAY DEPARTURES

•

ONLY FOR SHARING DOUBLE PASSENGERS
Countries to Explore
Thailand is a colorful country, the Land of Smiles famed for stunning tropical beaches, ornate temples, delicious thai food and ancient ruins.

Vietnam is an attractive country covered in lush verdant mountains, bustling cities and gorgeous golden beaches where unforgettable experiences can be found.
The luscious landscapes of Laos is a voluptuous landlocked country brimming with mountains, verdant paddy fields, cascading waterfalls and more incredible scenery.
See All Countries to Explore
More to Explore
Get inspired by the stunning natural wonders and exciting destinations of the South Pacific and Asia where magical vacations can be enjoyed.

48 countries make up the magnificent continent of Asia with two of the world`s most popular countries including India and China, there are so many destinations to visit, you will be spoilt for choice.
Southeast Asia is a stunning selection of fascinating countries combining idyllic island, serene tropical beaches, luxurious and exotic locations, and spectacular scenery including soaring mountains.

Bounded by Asia (India), Africa, Australia, and Antarctica, the Indian Ocean prides itself with precious clear beaches, turquoise waters, stunning islands, and marvelous scenery.
See River Cruises
Experiences and Adventures
There are many impressive UNESCO World Heritage Sites spread across Asia, the largest continent in the world.

There are many types of different cuisine spread through the largest and most populous continent on Earth; Asia.