Two Island Combos In Hawaii Vacation Packages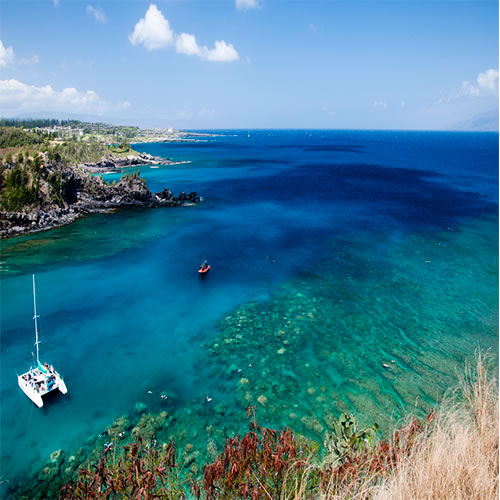 The gorgeous group of stunning Hawaiian Islands leads visitors to some breathtaking destinations and varied landscapes, from soaring verdant volcanoes to miles of sparkling coastline. The six major islands include Kauai, Oahu, Molokai, Big Island, and Maui, each with its own distinct personality, beauty, and charm. These fantastic islands are brimming with adventures, activities, and sights including ziplining, hiking, national parks, historic landmarks such as Pearl Harbor, waterfalls, diving, surfing, and a never-ending supply of beautiful blissful beaches such as the Iconic Waikikik Beach. Escape to these enchanting Hawaiian islands and absorb their natural beauty with views that will take your breath away. Hawaii's history, atmosphere, beauty, and dramatic landscapes are something every traveler should experience.
Hawaiian Islands
See Hawaiian Islands
Hawaii and Beyond
The vast remote country of Australia is filled with many unique landscapes and activities including the Australian Outback, the most famous reef system in the world, the famed Sydney Opera House and the amazing monolith Uluru in the red center.

New Zealand is famous the world over for its stunning scenery, ranging from jagged mountains to vast underground cave systems, enormous glaciers to boiling hot springs, scenic beaches to rocky coastline. It`s also packed with amazing cities, hidden nooks and crannies, magnificent wildlife, and much more.
See All Hawaii and Beyond
More to Explore
The stunning South Pacific boasts palm-fringed beaches, sparkling blue waters and sunshine-filled days with so many opportunities to relax and unwind.

Bounded by Asia (India), Africa, Australia, and Antarctica, the Indian Ocean prides itself with precious clear beaches, turquoise waters, stunning islands, and marvelous scenery, being frequently considered one of the most appealing marine destinations on Earth.

Asia is blessed with some of the most beautiful, breathtaking islands in the world with destinations including the Philippines, Thailand, Malaysia, Vietnam, and Indonesia.
SUGGESTED ITINERARIES
Oahu - Kauai - Hawaii Big Island (Kona) by Air

6 nights from $1,309*

Maui and San Francisco by Air

6 nights from $1,348*

Oahu and San Francisco by Air

6 nights from $1,309*

Los Angeles - Maui - San Francisco by Air

6 nights from $1,790*

Kauai - Oahu - Molokai by Air

6 nights from $1,591*

Los Angeles - Honolulu - Guam Island by Air

6 nights from $1,109*

Oahu - Kauai - Maui - Hawaii Big Island (Kona) by Air

8 nights from $1,689*

6 nights from $1,336*

6 nights from $13,641*

6 nights from $1,967*

5 nights from $749*

Oahu - Maui - Hawaii Big Island Beach and Volcano

8 nights from $1,779*

Oahu Getaway (Self Drive)

6 nights from $1,248*

Maui Getaway (Self Drive)

Oahu - Hawaii Big Island Beach and Volcano

6 nights from $1,419*

Oahu - Maui - Hilo by Air

6 nights from $2,273*

Fiji (Coral Coast) and Oahu (Hawaii) by Air

6 nights from $3,044*

Hawaii (Oahu) - Auckland - Sydney by Air

Hawaii Big Island (Kona) - Oahu - Los Angeles by Air

6 nights from $2,012*

Hawaii Big Island (Kona) - Oahu and Maui (Self Drive)

9 nights from $2,454*

Hawaii Big Island (Kona), Kauai and Maui by Air

6 nights from $1,449*

Maui and Kauai (Self Drive)

6 nights from $2,880*

Las Vegas and Oahu by Air

6 nights from $1,119*

6 nights from $1,199*

Sydney and Oahu (Hawaii) by Air

6 nights from $1,735*

San Francisco and Hawaii Big Island (Kona) by Air

San Francisco - Oahu - Los Angeles by Air

San Francisco - Oahu - Los Angeles by Air

Sydney - Gold Coast - Cairns by Air

7 nights from $1,921*

Oahu - Maui and Kauai (Self Drive)

9 nights from $2,261*

Oahu - Maui and Kauai (Self Drive)

9 nights from $2,261*

6 nights from $1,730*

Oahu (Honolulu) and Guam Island by Air

6 nights from $3,828*

Auckland - Sydney - Oahu (Hawaii) by Air

9 nights from $3,248*

Hawaii Big Island - Beach and Volcano Experience (Self Drive)

6 nights from $1,419*

Hilo Experience (Self Drive)

6 nights from $1,289*

5 nights from $1,017*
Experiences and Adventure
Honeymooning in Hawaii is a once in a lifetime experience with five main islands to choose from each one boasting its own uniqueness. The astonishing sun-drenched islands offer miles of white sandy beaches, sparkling blue waters, soaring mountains, gargantuan volcanoes, and lush verdant rainforests.

The stunning sun-soaked Hawaiian Islands boast some of the most beautiful beaches in the world, there is so much to do off the sand. Enjoy unforgettable scenic drives that await to be explored, the curvy Hana Highway snakes along Maui`s northeast coast, passing verdant green cliffs laced with waterfalls plunging to gold, black and red sand beaches
See All Experiences and Adventure
CUSTOMER REVIEWS
4.7 out of 5 stars
►
1 Reviews