Santa Maria (Sal Island) Vacation Packages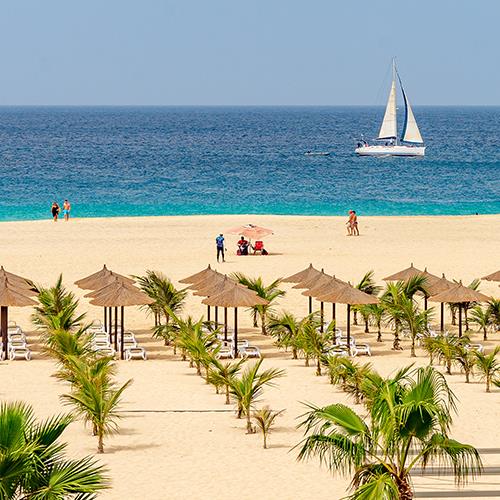 The stunning tropical Sal Island is a part of the archipelago situated off the West Coast of Africa. An up and coming beach destination boasting 350 days of sunshine a year. Soft white sands cover the miles of glistening coastline lapped by clear blue azure waters famed for windsurfing, kite surfing, and surfing. Pastel-colored houses stand in quaint seaside villages with cool cafes, beachside bars, and vibrant market shops. Sal is a peaceful island getaway with a laid back vibe.
Best Santa Maria (Sal Island) Vacation Packages:
7 nights itinerary
Get your adrenaline pumping while you enjoying Portugal and Cape Verde!. The city of Lisbon (the Portuguese Capital) is a vibrant city known for its history, cuisine, and culture, but it is also well known for its outdoor activities!. Discover the city by bike, visit a nearby Natural Park, and enjoy the beautiful ocean with a fun Surf Lesson and Sunset Cruise!. Then, head to gorgeous Sal Island (with golden sandy beaches sinking into azure waters, windows into the island`s past and some truly spectacular natural phenomena to admire) where you will spend time discovering the island, and make sure to enjoy its fine sandy beaches!. This is a flexible vacation package. Select your number of nights in each city, desired hotel and activities.
1 Customer Reviews
Other Santa Maria (Sal Island) Vacation Packages:
Map of Sal Island
Map of Point of Interest
SUGGESTED Santa Maria (Sal Island) VACATION PACKAGES:
CUSTOMER REVIEWS
4.7 out of 5 stars
►
1 Reviews
Santa Maria (Sal Island): Point of Interest Map