Activities in Amazon Rainforest (Leticia)
What to do in
Amazon Rainforest (Leticia)
---
---
---
Reset Filters
---
Map of Amazon Rainforest (Leticia)
Map of Point of interest
---
---
Packages including
Amazon Rainforest (Leticia)
>> see all
---
More to Explore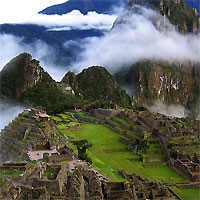 Machu Picchu remains one of the premier archaeological sites in the world and serves as a vivid reminder of the Incan Empire, its imagination, and magnificence.
---
The Galapagos Islands are located six hundred miles west of the Ecuadorian coastline. Its wonders span from the most varied and incredible geological formations: lava flows, blowholes, spatter cones, lava tunnels, beaches, and the most diverse species of vegetation.
---
The breathtaking Patagonia Region is shared by Argentina and Chile and runs from the coasts of the Pacific Ocean towards the Atlantic Ocean brimming with awe-inspiring glaciers and fjords.
---
Sightseeing Tours in Amazon Rainforest (Leticia)
(<%=totalSS%> total)
Sort by:
Name
Price
Duration