Mekong River Delta Vacation Packages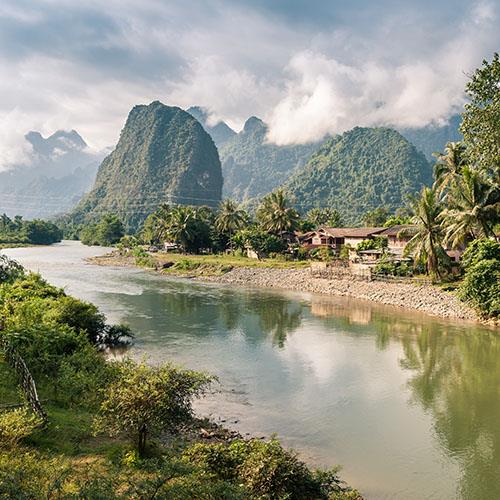 The Mighty Mekong Delta River or the "River of Nine Dragons" starts in the Himalayas, passing through China, Myanmar, Thailand, and Cambodia before reaching southwestern Vietnam. The magnificent delta region is home to unique ecosystems, historical landscapes, diverse communities, and breathtaking landscapes. The river is a vital part of the Vietnamese economy and diet, life here revolves around the waters, which are home to the famous floating markets of Can Tho, and the stunning scenic verdant surroundings of Tram Chim National Park packed with wildlife. The Mekong is Asia's third-largest river, it is the lifeblood of the rice and fruit crops of the region and a popular destination for nature lovers, tubing, boating, and bird watching.
BEST VACATION PACKAGES
Amazing destinations In Hong Kong, Thailand, Cambodia and Thailand!. The first one is Hong Kong City, the place where East meets West!. Western culture coexists seamlessly with traditional philosophy and practices of the Orient offering unique experiences to Hong Kong's tourists. Then fly into Bangkok, land in the colorful, exotic and pleasingly city with impressive sacred temples and get amazed by the authentic experience of the pioneer floating markets. Up next, fly to Siem Reap, a rich cultural city in Cambodia. Here you can delve into their alluring museums, ancient temples, and night markets. Next destination is Phnom Penh, a city full of attractions and memorable places to visit!. Last but not least, fly to Krabi a city where you can visit different beaches and practice water sports! Practice scuba diving, snorkeling, kayaking, canoeing in this next beaches Khlong Muang Beach, Ao Nang Beach or Noppharathara Beach. This is a flexible vacation package. Select your number of nights in each city, desired hotel and activities.
Included:
•

Flight into and out of Hong Kong City

•

Hotel for 1 night in Hong Kong City

•

Flight from Hong Kong City to Bangkok

•

Hotel for 2 nights in Bangkok

•

Flight from Bangkok to Siem Reap

•

Hotel for 2 nights in Siem Reap

•

Flight from Siem Reap to Phnom Penh

•

Hotel for 2 nights in Phnom Penh

•

Flight from Phnom Penh to Krabi

•

Hotel for 2 nights in Krabi

•

Flight from Krabi to Hong Kong

•

Hotel for 1 night in Hong Kong
Top Destinations along the Mekong Delta
More to Explore
Southeast Asia is brimming with stunning temples, verdant rice paddies, bustling night markets, stunning beaches, and remote hill tribe villages.

Southeast Asia is home to some magnificent exotic locations spread throughout idyllic islands, secluded beaches, luxurious resorts, lush rainforests, and soaring mountains.
Southeast Asia is a stunning selection of fascinating countries combining idyllic island, serene tropical beaches, luxurious and exotic locations, and spectacular scenery.
See Top Destinations along the Mekong Delta
Experiences and Adventures
Vietnam's sparkling coastline stretches for over 2,000 miles offering visitors endless beachfront vacation opportunities and with renowned island destinations to choose from.

The gorgeous S-shaped sparkling coastline of Vietnam stretches for 2,000 miles dotted, with serene white sand beaches, lapped by tranquil turquoise waters, and exotic offshore islands.