County Meath Vacation Packages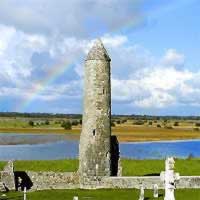 Some of the most important historic sites and monuments are located within County Meath and virtually every important aspect of Irish history from prehistoric times is associated with the county. Less than 30 miles north of Dublin along Ireland`s east coast runs the River Boyne, surrounded by the rich, fertile countryside of counties Meath and Louth. The banks of the Boyne hold reminders of Ireland`s ancient past in the extraordinary and mysterious prehistoric passage tombs of Newgrange and the storied Hill of Tara, once the seat of the High Kings. This was the setting for the infamous Battle of the Boyne. Today its historic treasures are tucked away among miles of farmland, smooth, rolling hills, and modern Dublin suburbs.
County Meath
Map of Point of Interest
Highlights of Ireland
Ireland is thought to have been inhabited from around 6000BC by people of a mid-Stone Age culture, about 4,000 years later, tribes from Southern Europe arrived and established a high Neolithic culture. Places to see include: Jerpoint Abbey, Hill of Tara, Newgrange, Rock of Cashel and much more!

The Ring of Kerry (Iveragh Peninsula) is a part of the mystical & unspoiled region of Ireland that has attracted visitors for hundreds of years. Its spectacular beauty is beyond question. It provides an amazing insight into the ancient heritage of Ireland and a landscape carved out of rock by the last Ice Age 10,000 years ago.
From uncanny lunar landscapes and the powerful Atlantic to labyrinthine caves and crystal clear waterways. Ireland enjoys over 714 miles of spectacular coastline, surrounded by the mighty Atlantic on the west and the Irish Sea on the east. As well as towering cliffs, clear fresh waters, pristine sandy beaches.
See All Highlights of Ireland
›