Graz Vacation Packages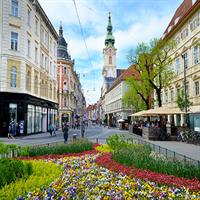 `European Capital of Culture` in 2003 and `City of Design` in 2009, Graz is Austria`s second-largest city, often snubbed by tourists in favor of Vienna. Not only is it one of the best preserved historical areas in Europe, filled with lavish institutions and exciting new attractions, but it also has a lesser-known arty side that is well worth exploring.
Best Graz Vacation Packages:
6 nights itinerary
Take an exciting, unforgettable vacation through Austria with our customizable package! Combine Vienna (music, waltzes, delicate almond pastries and interesting museums) and Graz (the capital city of the southern Austrian province of Styria) with a the IC Train between cities. This is a flexible vacation package. Select your number of nights in each city, desired hotel and activities.
Map of Graz
Map of Point of Interest
SUGGESTED Graz VACATION PACKAGES:
CUSTOMER REVIEWS
4.7 out of 5 stars
►
1 Reviews
Graz: Point of Interest Map