Petra Vacation Packages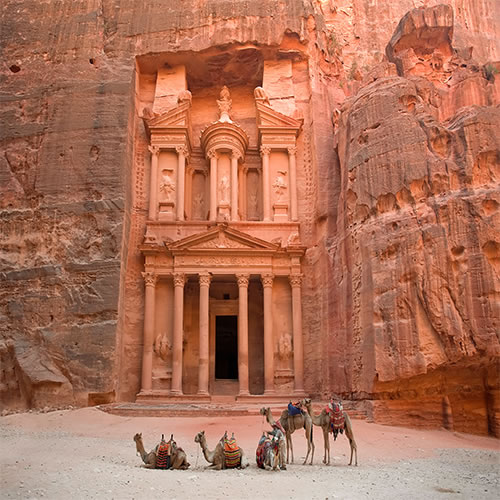 The awe-inspiring Ancient City of Petra is the country`s most valuable treasure. The UNESCO World Heritage Site and one of the Seven Wonders of the Modern World is a unique, vast city carved into the sheer sandstone rocks is an amazing place to explore. Discover massive ancient temples and tombs along with the spectacular sights from the Mountaintop Monarchy in a city that dates back over 2,000 years.
Best Petra Vacation Packages:
6 nights from
$1,673
*
A Getaway to The Middle East awaits you in Jordan. Enjoy: Amman (main capital city and one of the easiest cities in which to enjoy the Middle East experience); up next visit Petra (this UNESCO heritage site city is famous for its rock-cut architecture and water conduit system surrounded by mountains riddled with passages and gorges); and finally, have a pleasant stay in Aqaba (on the northeastern tip of the Red Sea; this coastal city is surrounded by mountains and desert and city's prime location gives visitors access to many amazing attractions in Jordan, like Wadi Rum). Private transfers will take you between these destinations. This is a flexible vacation package. Select your number of nights in each city, desired hotel and activities.
Other Petra Vacation Packages:
Map of Petra
Map of Point of Interest
SUGGESTED Petra VACATION PACKAGES:
Amman - Petra - Wadi Rum - Aqaba

7 nights from $1,643*

7 nights from $2,167*

Tel Aviv - Amman - Petra - Aqaba

8 nights from $1,993*

Amman - Petra - Dead Sea - Cairo

8 nights from $2,449*

Cairo - Amman - Dead Sea - Petra - Wadi Rum

8 nights from $2,589*

Dubai - Amman - Dead Sea - Petra - Wadi Rum

9 nights from $2,534*

Jerusalem - Eilat - Wadi Rum - Petra - Amman

9 nights from $2,685*

Tel Aviv - Jerusalem - Amman - Petra - Dead Sea

10 nights from $2,481*

Dead Sea - Petra - Istanbul - Cappadocia

8 nights from $2,575*

Petra - Dead Sea - Cairo - Istanbul

9 nights from $2,470*

Tel Aviv - Jerusalem - Tiberias - Petra - Amman

Israel and Jordan Highlights

9 nights from $2,655*
CUSTOMER REVIEWS
4.7 out of 5 stars
►
1 Reviews
Petra: Point of Interest Map