[tmpagetype=city]
[tmpagetypeinstance=gp3]
[tmrowid=]
[tmadstatus=]
[tmregion=asia]
[tmcountry=]
[tmdestination=hoi an]
Hoi An: Point of Interest Map
Hoi An Vacation Packages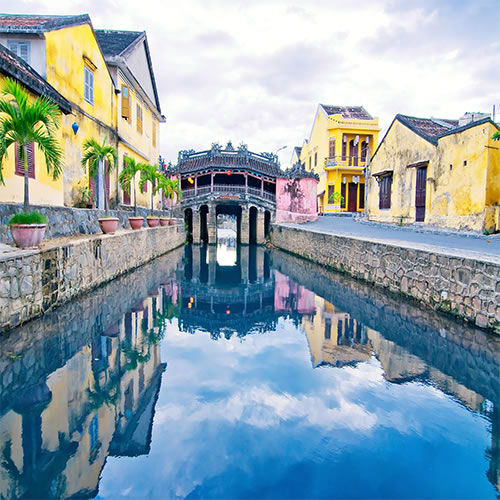 The radiant ancient port town of Hoi An is a dream destination for travelers and one of Vietnam`s most appealing cities. The charming area of Ancient Town is a UNESCO World Heritage site lined with cobblestone streets that are occupied by colorful shophouses. Riverside is a dazzling area vibrantly decorated at night with the iconic colorful lanterns. Hoi An boasts beaches, museums, markets and well-preserved buildings along with tailor-made services, Hoi An silk and the tasty local dish `Cao Lau`.
Best Hoi An Vacation Packages:
12 nights from
$2,201*
Discover Vietnam, a country of contrasts, where modern sensibilities meet centuries of traditions. Visit; the capital city, Hanoi; and after that, fly to Dalat (famous for its beautiful landscape, evergreen forests and minority villages); and then, catch another fly to Danang (the tourist capital of South Central Vietnam, with beautiful sunsets against an impressive backdrop of lush mountains ). From there a transfer will take you to Hoi An (on Vietnam's central coast known for its well-preserved Ancient Town, cut through with canals). On your way from Danang, don't miss the opportunity to visit Ba Na Hills (a French village resort with medieval castles and its Golden Bridge). Continue with a transfer from your hotel to Danang Airport and fly to Con Dao (island known for their sandy beaches, coral reefs and marine life); and finally, to Ho Chi Minh (ex Saigon and most populous city in Vietnam). This is a flexible vacation package. Select your number of nights in each city, desired hotel and activities.
Other Hoi An Vacation Packages:
Map of Hoi An
Map of Point of Interest
SUGGESTED Hoi An VACATION PACKAGES:
CUSTOMER REVIEWS
4.7 out of 5 stars
►
1 Reviews