[tmpagetype=city]
[tmpagetypeinstance=gp3]
[tmrowid=]
[tmadstatus=]
[tmregion=asia]
[tmcountry=]
[tmdestination=mana island (mamanuca)]
Mana Island (Mamanuca): Point of Interest Map
Mana Island (Mamanuca) Vacation Packages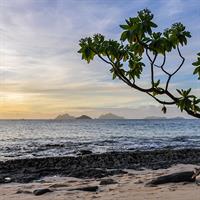 The dazzling tropical Mana Island is a small island home to two upscale resorts surrounded by endless blue waters. A hidden slice of paradise leading to long stretches of serene soft white sand beaches and boundless water activities in the spellbinding Fijian waters. Sip tropical cocktails while gazing at a stunning sunset and soaking in the easygoing island vibes.
Best Mana Island (Mamanuca) Vacation Packages:
6 nights from
$1,818*
Hidden paradise in Fiji!. Combine Nadi known for its amazing beaches, clear waters, palm trees, very friendly locals, and relaxed atmosphere in Fiji Island!.. and Mana Island (Mamanuca Islands) (surrounded by lush tropical gardens and mountainsides, stunning white sandy beaches and crystal blue water ideal for snorkeling and swimming straight off the beach). Whether it`s a secluded romantic getaway for two, or a beach holiday with the whole family, Mana Island suits all needs!. This is a flexible vacation package. Select your number of nights in each city, desired hotel and activities.
Map of Mana Island
Map of Point of Interest
SUGGESTED Mana Island (Mamanuca) VACATION PACKAGES:
CUSTOMER REVIEWS
4.7 out of 5 stars
►
1 Reviews