[tmpagetype=city]
[tmpagetypeinstance=gp3]
[tmrowid=]
[tmadstatus=]
[tmregion=asia]
[tmcountry=]
[tmdestination=matamanoa island (mamanuca)]
Matamanoa Island (Mamanuca): Point of Interest Map
Matamanoa Island (Mamanuca) Vacation Packages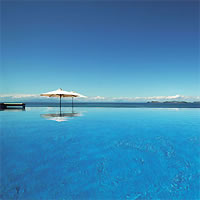 Matamanoa Island is a tiny intimate island part of the magical Fiji Island chain, a secluded getaway for romantic vacations under the sun. A stunning volcanic cone that juts out of the spellbinding turquoise waters boasting unspoiled beaches lined by swaying palms and backed by the lush dense rainforest. Escape to this magical island getaway with endless options for rest, and relaxation.
Best Matamanoa Island (Mamanuca) Vacation Packages:
6 nights itinerary
Discover two top tourist destinations in Fiji Islands!. Combine Nadi (the third-largest conurbation in Fiji. It is located on the western side of the main island of Viti Levu.it is known for its amazing beaches, clear waters, palm trees, very friendly locals, and relaxed atmosphere in Fiji Island!) and Matamanoa Island (small, private island featuring a boutique resort, white-sand beach and coral reef for snorkeling), with boat transfers between islands. This is a flexible vacation package. Select your number of nights in each city, desired hotel and activities.
Other Matamanoa Island (Mamanuca) Vacation Packages:
Map of Matamanoa Island
Matamanoa Island (Mamanuca)
Map of Point of Interest
SUGGESTED Matamanoa Island (Mamanuca) VACATION PACKAGES:
CUSTOMER REVIEWS
4.7 out of 5 stars
►
1 Reviews