Thailand`s Countryside Vacation Packages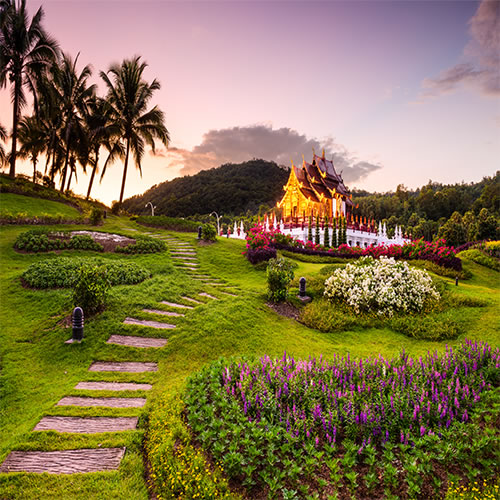 Experience the north of Thailand as you travel through its verdant countryside dotted with rice paddies, attractive landscapes and a natural environment that is not found anywhere else in the country. Visit remote longneck hill tribe villages and explore the most impressive temples. The Thai countryside is a major tourist spot due to its richness in greenery, the huge mountainous terrains, the hilly areas, the amazing jungles, the captivating forests and admiring wildlife.
Top Thailand Countryside Destinations
Regions of Thailand
Northern Thailand is landlocked and surrounded by rolling verdant hills, and soaring mountains, and shares its borders with Myanmar and Laos. Cities here include Chiang Mai and Sukhothai which were the first historical Thai nations in the Lanna Kingdom. Central Thailand is often bypassed by visitors, also known as the Central Plains, it is the country's cultural heartland, fed by the Chao Phraya River.
More to Explore
The River Kwai is the lifeblood of Kanchanaburi, one of Thailand`s westernmost provinces. The river has gained international fame due the construction of the Death Railway and the famous Bridge on the River Kwai.

Southeast Asia is home to some magnificent exotic locations spread throughout idyllic islands, secluded beaches, luxurious resorts, lush rainforests, and soaring mountains.

Southeast Asia is a stunning selection of fascinating countries combining idyllic islands, serene tropical beaches, luxurious and exotic locations, and spectacular scenery including soaring mountains.
Experiences and Adventures
Many people come to Thailand to enjoy vacations that combine cities and the beach. International travelers arrive in Bangkok, then leave the city behind for the beach, sun and surf.

Thailand's astonishing tropical islands have plenty to offer from blinding white sands, swaying palm trees, luxury resorts, and sparkling turquoise waters that lap the stunning islands and beaches.
See All Experiences and Adventures
CUSTOMER REVIEWS
4.7 out of 5 stars
►
1 Reviews