Abu Dhabi Vacation Packages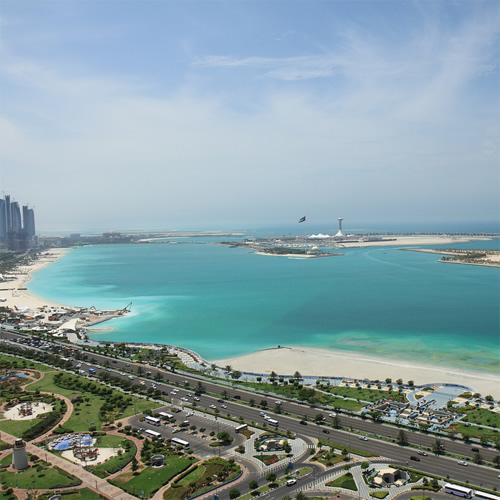 Abu Dhabi is the capital city of the UAE, one of the most modern, dynamic cities in the world. This spectacular T-shaped Island sits on the Persian Gulf connecting to the mainland by the Maqta and Musaffah bridges. The stunning skyline of the city is filled with skyscrapers, huge shopping malls, beaches and plenty of attractions. Stroll along the Corniche promenade and relax on the soft white sandy beaches, head out to Marina Island where you can travel back in time at the Heritage Village or shop at the Marina Mall, cruise to Yas Island and ride the fastest roller coaster in the world at Ferrari World.
Best Abu Dhabi Vacation Packages:
9 nights from
$4,168
*
Three top destinations to enjoy in The Seychelles, The UAE and India. Start in the paradise Mahe Island capital and largest island of Seychelles; with truly beautiful nature trails. It is one of the most popular island destination with beautiful beaches, local markets, big hotels and luxury resorts). After that, catch a flight to Abu Dhabi (capital of the United Arab Emirates and the richest city in the world, known worldwide for holding Formula 1 races and mosques). Lastly, fly to The City of Dreams; Mumbai (known as Bombay, one of the most populous and biggest cities, popular as the entertainment and financial capital). This is a flexible vacation package. Select your number of nights in each city, desired hotel and activities.
1 Customer Reviews
Other Abu Dhabi Vacation Packages:
Map of Abu Dhabi
Map of Point of Interest
SUGGESTED Abu Dhabi VACATION PACKAGES:
Dubai - Abu Dhabi - Cairo - Nile River Cruise

10 nights from $4,943*

Johannesburg - Madagascar (Antananarivo) - Dubai by Air

7 nights from $2,311*

Dubai - Abu Dhabi - Delhi - Bangkok

8 nights from $2,496*

Abu Dhabi - Dubai - Sharjah

8 nights from $2,809*

Muscat - Abu Dhabi - Dubai - Umm Al Quwain

8 nights from $2,050*

Luxury Journey - Dubai - Abu Dhabi

6 nights from $1,476*

Tel Aviv - Dubai - Ajman - Abu Dhabi

10 nights from $2,087*

Dubai - Abu Dhabi - Bahrain

8 nights from $1,388*

Dubai - Abu Dhabi - Paris

9 nights from $2,311*

6 nights from $1,349*

Dubai - Abu Dhabi - Madagascar (Antananarivo)

The Palm (Dubai) - Abu Dhabi

6 nights from $1,559*

The Palm (Dubai) - Abu Dhabi - The Pearl (Doha)

7 nights from $2,099*

Dubai - Abu Dhabi - Doha - Al Wakrah

Muscat - Dubai - Abu Dhabi

7 nights from $2,225*

Dubai - Abu Dhabi - Muscat - Salalah

8 nights from $2,954*

Dubai - Abu Dhabi - Doha - Lusail

United Arab Emirates and Oman

8 nights from $2,477*

United Arab Emirates and Seychelles Experience

8 nights from $3,235*
CUSTOMER REVIEWS
4.7 out of 5 stars
►
1 Reviews
Abu Dhabi: Point of Interest Map