Alsace Lorraine Vacation Packages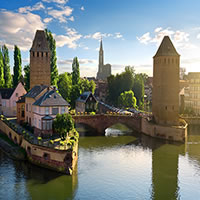 Alsace-Lorraine, a historic province in Eastern France, is where you will find the ancient capitals at Strasbourg and Nancy. The only thing that separates Germany from this region is the Rhine, and the area is extremely reminiscent of the German look (and sometimes feel). With its Germanic dialect, French sense of fashion, love of Foie gras and sauerkraut, fine wine and beer, this region often leaves you wondering quite where you are.
Major Cities
See Major Cities
SUGGESTED ITINERARIES
9 nights from $1,829*

France is regarded as one of the most dynamic countries in Europe, you can explore this country combining Paris (the romantic City of Lights; shopping, dining, museums), Rouen, Mont St Michel (a tidal island and mainland commune in Normandy, France) and Rouen with a rent a car. This is a flexible vacation package. Select your number of nights in each city, desired hotel and activities.

Included:

Customer feedback (1)

---

---

Legendary France (Self Drive)

10 nights from $2,383*

A perfect combination of charming cities and breathtaking views across France with this unique opportunity to explore on your own with a rental car; Begin in Paris (the romantic City of Lights; shopping, dining, museums), Tours, then Lyon, before heading to Nimes; next Aix-en-Provence and last Nice (capital on the Riviera; glamorous with rocky beaches, famous cafes and brilliant sunshine). This is a flexible vacation package. Select your number of nights in each city, desired hotel and activities..

Included:

Customer feedback (6)

---

---

14 nights from $2,010*

France at your disposal! This breathless vacation package begins in Paris (the romantic City of Lights; an enduring city, home to rich history - museums, architecture, shopping, fine food and wine), then continues to Bordeaux, Biarritz, Lourdes, Carcassonne, Aix en Provence and, finally, Nice (magnificent sunshine and under-crowded beaches). Travel between these frenetic cities with the TGV and RE Trains. This is a flexible vacation package. Select your number of nights in each city, desired hotel and activities.

Included:

Flight into Paris and out of Nice
Hotel for 2 nights in Paris
Train Paris - Bordeaux
Hotel for 2 nights in Bordeaux
Train Bordeaux - Biarritz
Hotel for 2 nights in Biarritz
Train Biarritz - Lourdes
Hotel for 2 nights in Lourdes
Train Lourdes - Carcassonne
Hotel for 2 nights in Carcassonne
Train Carcassonne - Aix en Provence
Hotel for 2 nights in Aix en Provence
Train Aix en Provence - Nice
Hotel for 2 nights in Nice

---

---
Experience and Adventure
France boasts lively cities, idyllic sun-drenched beaches and the glamorous and gorgeous Cote d`Azur coastline. There are so many different possibilities from world-renowned Paris, one of the most famous cities in Europe, to a seaside holiday spent lounging on beaches, swimming in the sea, and dining at stylish waterfront restaurants.

France is not just Paris, but fortified towns with elaborate chateaus and castles; Roman ruins and religious monasteries; verdant vineyards and sunflower fields; magnificent mountains and the warm Riviera sunshine and so much more. With its winding country lanes, exploring France`s countryside is often best done by car.

France has so many charming towns, villages, cities and hamlets that are totally unique from one another and worthy of any travel bucket list. These villages offer the best of French culture and heritage and beyond the most popular tourist sites. Many of these villages only have a population of a few hundred, offering visitors a more intimate and authentic experience of France.
France is famous for its wine regions, with over 3,000 different wines across two million hectares of vineyards, wine lovers from around the world flock to France for its sheer abundance of vineyards and vintages. Each wine region offers a different grape variety, unique environmental conditions, and their own special wines.

With over 2,000 years of history, France boasts more than 40 UNESCO World Heritage Sites, and has the fourth largest number of historical sites in the world after Italy, China, and Spain. The UNESCO-listed sites take a variety of forms including historic towns, palaces, castles, religious buildings, forts, canals, and landscapes. These sites can be found spread all across France, so wherever you go, you won't be far away from one of them.

French cuisine is renowned for its flavor and finesse. Once you have your first meal here, you'll quickly realize that food in France is more than just fuel. The French regard gastronomy as essential to the art of living, and the culinary culture of the country runs deep. From wholesome desserts to delectable cheeses, wines, stews, soups, fresh fish….every region in France has its own specialty. In fact, French cuisine is so highly regarded around the world that it was added to UNESCO's list of intangible cultural heritages in 2010.
See All Experience and Adventure
CUSTOMER REVIEWS
4.7 out of 5 stars
►
1 Reviews