Amazon Rainforest (Leticia): Point of Interest Map
Amazon Rainforest (Leticia) Vacations Packages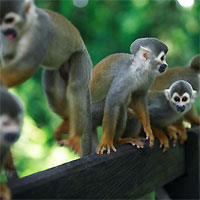 Nestled in the southernmost corner of Colombia between Peru and Brazil, Leticia is a small village home to about 32,000 inhabitants and is a major access point to the famed Amazon River. If you`re looking for adventure, Leticia should be at the top of your list, as you can cruise down the world`s longest river (and home to the world`s most dangerous fish), swing through the trees of the Amazon forest, and visit three countries in one day without taking a plane.
Best Amazon Rainforest (Leticia) Vacation Packages:
Map of Leticia
Amazon Rainforest (Leticia)
Map of Point of Interest
More of the Amazon
The Peruvian Amazon is a verdant tropical region covering almost two-thirds of the country, it is the fourth largest rainforest in the world.

The massive Amazon River experience in Brazil begins at the convergence of the Rio Negro and Rio Solimoes just nearby the city of Manaus.
More to Explore
Machu Picchu remains one of the premier archaeological sites in the world and serves as a vivid reminder of the Incan Empire, its imagination, and magnificence.

The Galapagos Islands are located six hundred miles west of the Ecuadorian coastline. Its wonders span from the most varied and incredible geological formations: lava flows, blowholes, spatter cones, lava tunnels, beaches, and the most diverse species of vegetation.
SUGGESTED Amazon Rainforest (Leticia) VACATION PACKAGES:
CUSTOMER REVIEWS
4.7 out of 5 stars
►
1 Reviews