Bocas del Toro Vacations Packages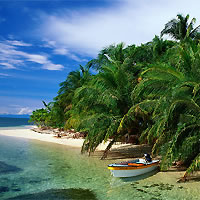 Bocas del Toro is a magical and remote archipelago that lies off the mainland of Panama`s Caribbean Coast. A gateway to 6 islands and tons of tiny islets whose allure is to slow down and soak up the funky island vibes. Soft sugar sandy beaches, sparkling turquoise waters and abundant wildlife found in the dense verdant jungles.
Best Bocas del Toro Vacation Packages:
6 nights from
$1,434*
A bustling city and a Beach Gateway in Panama! . Combine amazing stays in: Panama City (most attractive Capital City and a curious blend of old Spain, modern America and the bazaar atmosphere of the East. The city is a regional hub for trading. It is best known for The Panama Canal and its charming Casco Viejo. This lively Latin American city also borders one of Central America's richest rain forest); Bocas del Toro (at the northern coast of Panama, this beautiful archipelago is known for its unparalleled beauty and vibrant nightlife. Its boasts fine white sand beaches with turquoise waters, world-famous waves, colorful coral reefs, mangroves and nearby jungle rainforests); and one last night stay in Panama City, to finish enjoying what the city has to offer. Connect these destinations with domestic flights, followed by private transfers from the airport/hotel/airport. This is a flexible vacation package. Select your number of nights in each city, desired hotel and activities.
Other Bocas del Toro Vacation Packages:
Map of Bocas del Toro
Map of Point of Interest
SUGGESTED Bocas del Toro VACATION PACKAGES:
Soberania National Park - Boquete - Bocas del Toro - Panama City

Panama City - Soberania National Park - Playa Bonita

8 nights from $1,770*

Soberania National Park - Boquete - Bocas del Toro - Panama City

Arenal Volcano - Puerto Viejo Limon - Bocas del Toro - Panama City

Bocas del Toro - Boquete - Arenal Volcano - Tamarindo Beach

Bocas del Toro - Boquete - Panama City - Arenal Volcano - Guanacaste Beaches
CUSTOMER REVIEWS
4.7 out of 5 stars
►
1 Reviews
Bocas del Toro: Point of Interest Map