[tmpagetype=city]
[tmpagetypeinstance=gp3]
[tmrowid=]
[tmadstatus=]
[tmregion=europe]
[tmcountry=]
[tmdestination=trier (treves)]
Trier (Treves) Vacation Packages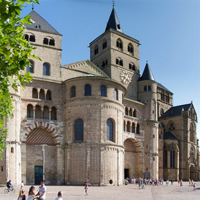 Located in southwestern Germany, in the Moselle wine region, near the Luxembourg border, Trier was founded under Augustus in 16 B.C. Augusta Treverorum (Trier) became the second Rome. It is Germany's oldest city with buildings and monuments, dating from Roman and later periods. it contains several well-preserved Roman structures like the Porta Nigra gate, the ruins of Roman baths, an amphitheater just outside the center and a stone bridge over the Moselle River. The Archaeological Museum displays Roman artifacts. Among Trier's many Catholic churches is Trier Cathedral. The city is rich not only in art and tradition but also it's one of Germany's largest wine exporters. It is also the birthplace of Karl Marx and a university town with a lively nightlife. Don't miss the "Altstadtfest" when the whole city is one big party with lots of live events, local food, wine and beer.
Best Trier (Treves) Vacation Packages:
12 nights itinerary
Touring across France and Germany with this Package. Discover Paris (the romantic City of Lights; an enduring city, home to rich history - museums, architecture, shopping, fine food and wine), Trier, Koblenz, Wurzburg, Nuremberg and Frankfurt (a central German city on the river Main, is a major financial hub that's home to the European Central Bank) with the TGV Train. This is a flexible vacation package. Select your number of nights in each city, desired hotel and activities.
1 Customer Reviews
Other Trier (Treves) Vacation Packages:
Trier
Map of Point of Interest
SUGGESTED Trier (Treves) VACATION PACKAGES:
CUSTOMER REVIEWS
4.7 out of 5 stars

►

1 Reviews

Trier (Treves): Point of Interest Map

.