[tmpagetype=city]
[tmpagetypeinstance=gp3]
[tmrowid=]
[tmadstatus=]
[tmregion=europe]
[tmcountry=]
[tmdestination=stuttgart]
Stuttgart Vacation Packages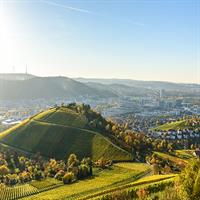 Situated in a beautiful area of the Swabian Mountains, Stuttgart has an important cultural tradition, reflected in the famous Staatstheater - with the worldwide known Opera and Ballet. Stuttgart also offers one of Europe`s top zoos, sumptuous palaces, and one of Germany`s largest Christmas markets that draw visitors year-round. Moreover, Stuttgart is a city famous for cars with two awesome museums that will please any petrolhead – the Mercedes-Benz Museum and the Porsche Museum. With so much to see and do, it's easy to see why Stuttgart is one of the most popular places to visit in Germany. As a matter of fact, Stuttgart is the modern version of its older name Stuotgarten which means 'a garden for the horses'.
Best Stuttgart Vacation Packages:
6 nights from
$1,478
*
Explore the beautiful Germany!. Begin in Munich (the capital of Bavaria; stunning architecture and the annual Oktoberfest) and after that, continue to Stuttgart (historical to modern and nature to architecture and known as the "cradle of the automobile", with home to famous automobile museums) and finally, visit Frankfurt (known for being the financial capital of the EU, and for its famous for its buzzing nightlife, diversity, historic old town, and its cultural wealth). Connect these cities by train to enjoy the extraordinary countryside. This is a flexible vacation package. Select your number of nights in each city, desired hotel and activities.
Other Stuttgart Vacation Packages:
Stuttgart
Map of Point of Interest
SUGGESTED Stuttgart VACATION PACKAGES:
Stuttgart - Baden Baden - Freiburg - Munich by Train

8 nights from $1,875*

Frankfurt - Stuttgart - Munich by Train

6 nights from $1,329*

Dusseldorf - Cologne - Stuttgart - Munich by Train

8 nights from $2,154*

Christmas Markets - Salzburg and Germany

10 nights from $3,324*
CUSTOMER REVIEWS
4.7 out of 5 stars

►

1 Reviews

Stuttgart: Point of Interest Map

.