Budapest Vacation Packages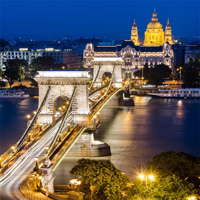 Budapest, Hungary`s capital, is two cities in one! Buda is on a hill and is the historical part of the city, and Pest is on a plain, with both sides separated by the Danube River and connected by four magnificent bridges. Among them, perhaps the most famous is the beautiful 19th-century Szechenyi Chain Bridge. With a unique, youthful atmosphere, a world-class classical music scene as well as pulsating nightlife and an exceptionally rich offering of natural thermal baths, Budapest is one of Europe`s most delightful and enjoyable cities. It throbs with life morning, noon and night; a remarkable and wholly unpretentious place. The city successfully mixes its fascinating history with a brilliant, laid-back contemporary artistic style.
Best Budapest Vacation Packages:
6 nights from
$1,985
*
A taste experience in the capital of Hungary!. Hungarian cuisine and wine is world-famous. This flexible vacation package will allow you to taste the best of those as well as visit the popular and artistic Ruins Bars of Budapest (well-known worldwide for its incredible thermal springs, classical music, art gothic and noveau buildings alongside the Danube River). This is a flexible vacation package. Select your number of nights in each city, desired hotel and activities.
1 Customer Reviews
Other Budapest Vacation Packages:
Map of Budapest
Map of Point of Interest
SUGGESTED Budapest VACATION PACKAGES:
Budapest - Prague - Krakow - Warsaw by Train

8 nights from $2,230*

Budapest - Prague - Dubrovnik by Air

6 nights from $4,659*

Budapest - Vienna - Salzburg - Prague by Train

8 nights from $1,686*

Budapest and Krakow by Air

6 nights from $1,725*

Paris - Prague - Budapest by Air

9 nights from $2,137*

Prague and Budapest by Train

6 nights from $1,089*

Prague - Vienna - Budapest by Train

9 nights from $1,719*

Paris and Budapest by Air

6 nights from $2,033*

Budapest - Prague - Zagreb by Air

6 nights from $4,943*

Amsterdam and Vienna - Budapest

9 nights from $2,459*

Berlin - Prague - Budapest by Train

9 nights from $2,352*

Warsaw - Krakow - Bratislava - Prague - Budapest by Train

10 nights from $2,575*

Berlin - Prague - Vienna - Budapest by Train

12 nights from $2,089*

Budapest - Vienna - Salzburg - Prague by Train

8 nights from $1,686*

London and Budapest by Air

6 nights from $2,165*

Budapest - Bratislava - Vienna by Train

6 nights from $1,713*
CUSTOMER REVIEWS
4.7 out of 5 stars
►
27 Reviews
The Hotel in Budapest, named Collect, was wonderful. The location also. The Taxis, were on time dropping us up and picking us up. Ms Ruby, who put eve ...

Traveled on:3/13/2023

The King Charles in Prague was a wonderful, cozy, and beautiful hotel. The staff could not have been more polite and helpful. The Flemings Conference ...

Traveled on:3/12/2023

The Hotels that we stayed on were great. They were clean with very professional staff and they were located close to tourist attractions or were trai ...

Traveled on:3/10/2023

----- No customer comment ---- ...

Traveled on:3/10/2023

----- No customer comment ---- ...

Traveled on:3/4/2023
Budapest: Point of Interest Map