Geneva Vacation Packages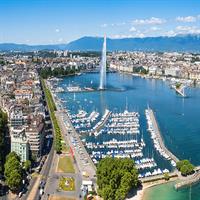 Geneva is a gorgeous city, one that`s filled with mountains of chocolate, some incredible history and a cosmopolitan atmosphere. The city boasts breathtaking river, lake and mountain views and international flavor as a result of being headquarters for a number of multinational corporations and associations. Surrounded by the Alps to the south, the city is a perfect place to begin your adventure in Switzerland.
Best Geneva Vacation Packages:
7 nights from
$1,510
*
Discover these Swiss greatest cities. Combine Geneva (a financial and worldwide centre for diplomacy), Lausanne (known as the Olympic Capital of the World as the city houses the International Olympic Committee headquarters) and Montreux (traditional resort town on Lake Geneva. Nestled between steep hills and the lakeside, it's known for its mild microclimate and the Montreux Jazz Festival). Get back to Geneva for one last stay. This is a flexible vacation package. Select your number of nights in each city, desired hotel and activities.
Other Geneva Vacation Packages:
Map of Geneva
Map of Point of Interest
SUGGESTED Geneva VACATION PACKAGES:
Paris and Geneva by Train

6 nights from $2,379*

Paris - Grenoble - Lyon - Geneva by Train

8 nights from $2,311*

Zurich - Lucerne - Geneva by Train

6 nights from $1,949*

Zurich - Lucerne - Bern - Lausanne - Geneva by Train

10 nights from $1,756*

Amsterdam and Venice - Geneva - Paris

8 nights from $2,693*

London - Paris - Geneva - Florence - Rome by Train

10 nights from $2,852*

Swiss Highlights with a Rental Car

6 nights from $1,802*

Grand Tour of Switzerland (Self Drive)

8 nights from $1,707*

6 nights from $2,121*

Geneva and Chamonix Mont Blanc (Self Drive)

6 nights from $2,062*

Geneva and Montreux by Train

6 nights from $2,216*

Geneva - Milan - Venice by Train

9 nights from $2,019*

Geneva and Lucerne - Vaduz - Zurich

10 nights from $3,298*

Paris - Tours - Beaune - Geneva

12 nights from $3,425*
CUSTOMER REVIEWS
4.7 out of 5 stars
►
3 Reviews
Victoria Jungfrau hotel was magnificent! The website is not user friendly, but chat/phone call with your staff is good ...

Traveled on:12/16/2022

Every reservation was perfect. Hotels were better than described. Services were all good. Everyone expected our arrival and was gracious.

Lynn F ...

Traveled on:9/20/2021

This was the first time traveling with Tripmasters. My wife and I have traveled internationally a fair number of times through other travel programs ...

Traveled on:8/27/2021
Geneva: Point of Interest Map