Estancias near Buenos Aires Vacation Packages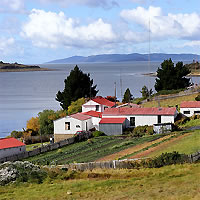 This is an opportunity to experience the Gaucho culture of the Pampas region, in the gracious environment of an 18th century Estancia (ranch). These traditional Argentine ranches feature grand haciendas that exude comfort, personalized service, and delicious cuisine, including customary barbeque of free range Estancia raised beef. Only an hour and a half from Buenos Aires, the Estancias are a perfect respite from the exhilaration of Buenos Aires, or exploring Argentina`s other extraordinary destinations, and steeping yourself in an important aspect of Argentina`s unique heritage.
Best Estancias near Buenos Aires Vacation Packages:
Map of Estancias
Estancias near Buenos Aires
Map of Point of Interest
* Sample prices displayed include international and domestic airline tickets as per itinerary and ALL airline-related taxes and fuel surcharges and are per person, based on double occupancy, and are dynamic in nature. Prices do not include insurance or delivery charges which are optional and customizable by the traveler. The airfare portion of the itinerary price is based on economy class, midweek departure. Prices do not include fees for carry on or checked baggage which can add additional fees per ticket on a roundtrip flight based on carrier charges. It also does not include any entrance fees or visa fees that may be charged at international airports. Some cities may charge local taxes that can only be collected by hotel at destination.
Prices were accurate at the time we posted them. Sample prices were for a specific travel date and specific departure airport, as indicated. Your prices will vary according to departure cities and travel dates. We do not control prices (airlines and hotel reservation systems do). Prices may change dynamically and at times significantly numerous times during any given day.