Chiang Mai: Point of Interest Map
Chiang Mai Vacation Packages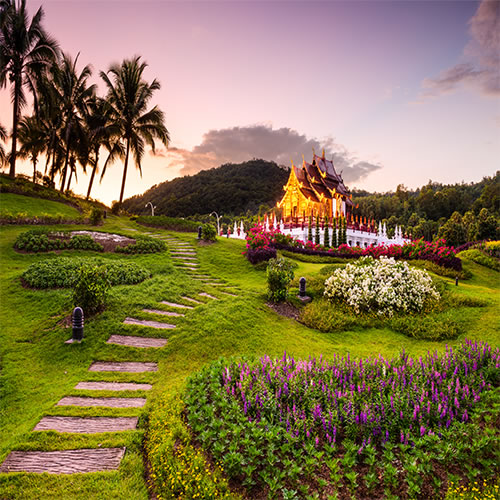 Chiang Mai is known as the `Rose of the North`, the former seat of the Lanna Kingdom and Thailand`s northern capital. This visually striking city is nestled amongst lush countryside with stupendous mountains featuring intricate temples and surrounded by a glimpse of ancient walls and moats originally designed for defense. A place full of history and charm with a relaxing vibe, climb the 300 plus steps up the mountain of Doi Suthep to the elaborate Wat Phra That, go white water rafting, take a river cruise or camp at one of the seven national parks.
Best Chiang Mai Vacation Packages:
6 nights from
$1,957*
Thailand treasures! Amaze yourself exploring Bangkok, the most populous city of Thailand, where many activities such riding a Tuk Tuk along Chinatown or riding a boat thought the floating market are seen in every step you make around this cheerful and enjoyable city. Then, catch a flight to Chiang Mai, nestled into the foothills of northern Thailand where the landscape is picturesque and out of a postcard with many cultural and outdoor activities. This is a flexible vacation package. Select your number of nights in each city, desired hotel and activities.
Other Chiang Mai Vacation Packages:
Map of Chiang Mai
Map of Point of Interest
Explore Thailand
Welcome to paradise! The Andaman Coast is a sparkling jewel on the southwest coast of Thailand home to some of the country's most popular beach destinations such as Phuket, the Phi Phi Islands, and Krabi.

Thailand's astonishing tropical islands have plenty to offer from blinding white sands, swaying palm trees, luxury resorts, and sparkling turquoise waters that lap the stunning islands and beaches.
The River Kwai is the lifeblood of Kanchanaburi, one of Thailand`s westernmost provinces. The river has gained international fame due the construction of the Death Railway and the famous Bridge on the River Kwai.
See Explore Thailand
Highlights of Thailand
Thailand is one of Southeast Asia's best-kept secrets possessing some of the most dazzling beaches and islands in the world, along with exciting and energetic cities.

The cuisine in Thailand is world-renowned made from a unique blend of varying flavors, and textures combing the five essential key flavors; salty, sour, spicy, bitter, and sweet.
Experiences and Adventures
Wandering off the beaten path in Thailand is easily done with many unique and fascinating destinations and attractions found throughout the country.

Thailand is a large and diverse country filled with nature and adventure spread throughout the varied landscapes. The country will entice you with some magnificent locations for exploring the extensive national parks, wildlife sanctuaries, verdant rainforests, lakes, and rivers where elephants, birds, and marine life can be seen.

Southeast Asia is a stunning selection of fascinating countries combining idyllic island, serene tropical beaches, luxurious and exotic locations, and spectacular scenery including soaring mountains. Thailand, Vietnam, Laos, and Cambodia are a backpacker`s dream and the breathtaking beach locations in Malaysian and Indonesia are truly magnificent.
SUGGESTED Chiang Mai VACATION PACKAGES:
Bangkok - Chiang Rai - Chiang Mai - Phuket

8 nights from $2,196*

Bangkok - Chiang Mai - Krabi - Koh Samui by Air

8 nights from $1,933*

Bangkok - Chiang Mai - Andaman Coast

Bangkok - Siem Reap - Northern Thailand by Air

8 nights from $1,749*

Dubai and Highlights of Thailand by Air

Best of Japan and Thailand

12 nights from $4,259*

Bangkok - Pai - Chiang Mai

8 nights from $2,206*

Singapore and Highlights of Thailand by Air

12 nights from $2,327*
CUSTOMER REVIEWS
4.7 out of 5 stars
►
28 Reviews
----- No customer comment ---- ...

Traveled on:5/11/2023

I've already booked another trip with you - to Portugal. Everything was seamless and all factors of the trip were great. Thanks. I also felt like p ...

Traveled on:5/6/2023

----- No customer comment ---- ...

Traveled on:5/4/2023

----- No customer comment ---- ...

Traveled on:4/17/2023

Every hotel was fabulous. Especially the Diamond Cliff Resort in Phuket. I would highly recommend to anyone. 5 stars! ...

Traveled on:4/17/2023