Budapest Vacation Packages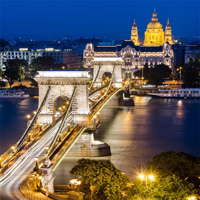 Budapest, Hungary`s capital, is two cities in one! Buda is on a hill and is the historical part of the city, and Pest is on a plain, with both sides separated by the Danube River and connected by four magnificent bridges. Among them, perhaps the most famous is the beautiful 19th-century Szechenyi Chain Bridge. With a unique, youthful atmosphere, a world-class classical music scene as well as pulsating nightlife and an exceptionally rich offering of natural thermal baths, Budapest is one of Europe`s most delightful and enjoyable cities. It throbs with life morning, noon and night; a remarkable and wholly unpretentious place.
Best Budapest Vacation Packages:
Map of Budapest
Map of Point of Interest
More to Explore
Full of diversity, entrenched in history and blessed with spectacular landscapes, Eastern Europe offers something for everyone.

Comprised of Austria, Czech Republic, Germany and Hungary. These countries have shared similar culture and history throughout the ages and have so much to offer.
SUGGESTED BUDAPEST VACATION PACKAGES:
London and Budapest by Air

6 nights from $991*

Munich - Prague - Vienna - Budapest by Train

12 nights from $1,389*

6 nights from $865*

Budapest - Bratislava - Vienna by Train

6 nights from $1,004*

Budapest - Prague - Krakow - Warsaw by Train

8 nights from $1,254*

Budapest - Prague - Dubrovnik by Air

6 nights from $2,949*

Budapest - Vienna - Salzburg - Prague by Train

8 nights from $1,252*

Budapest and Krakow by Air

6 nights from $946*

Paris - Prague - Budapest by Air

9 nights from $1,244*

Prague and Budapest by Train

6 nights from $1,016*

Prague - Vienna - Budapest by Train

9 nights from $1,089*

Paris and Budapest by Air

6 nights from $857*

Budapest - Prague - Zagreb by Air

6 nights from $1,656*

Amsterdam and Vienna - Budapest

Berlin - Prague - Budapest by Train

9 nights from $1,839*

Warsaw - Krakow - Bratislava - Prague - Budapest by Train

10 nights from $1,600*

Berlin - Prague - Vienna - Budapest by Train

12 nights from $1,309*
CUSTOMER REVIEWS
4.7 out of 5 stars
►
1742 Reviews
We thoroughly enjoyed our trip booked through Tripmasters. They made the planning part so easy. I was able to find flights right out of our small town ...

Traveled on: February 28

We thoroughly enjoyed our trip booked through Tripmasters. They made the planning part so easy. I was able to find flights right out of our small town ...

Traveled on: February 28

Everyone we met at each of the hotels were excellent and fully committed to service. I was very impressed by the desire of each individual to help us. ...

Traveled on: February 22

Everything, it was perfect!

Sandra P ...

Traveled on: February 18

I already started recommending you to friends that travel. Very pleased with everything from trip details to customer service.

George M ...

Traveled on: February 15