Galapagos Islands (San Cristobal) Vacations Packages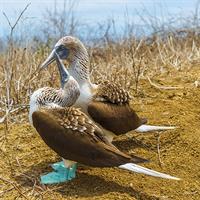 The spectacular San Cristobal Island is the largest and easternmost island in the Galapagos. Brimming with beautiful beaches, hidden coves and an abundance of wildlife such as the blue-footed boobie birds, Galapagos tortoise, and Frigatebirds. There is plenty to see and do on this exciting island including world-class surfing, diving, and bird watching.
Best Galapagos Islands (San Cristobal) Vacation Packages:
10 nights from
$2,201*
Combine the best of Colombia and Ecuador with visit to their main attractions. In Colombia visit: Cartagena (colonial city on the shores of the sea, and one of the most visited cities; its famous for its castles, culture, history and colorful buildings) and Bogota (Colombia's capital city, has so much to offer in terms of cuisine, culture, history, sports and art). Continue in Ecuador to enjoy: Quito (Ecuador's capital; a city notable for its well-preserved old town). After that, travel to famous Galapagos Islands Area (this is the most populated island and the tourist hub in Ecuador. Perfect place to spot marine iguanas, birds, crabs, turtles and innumerous animal species); with stays in Santa Cruz and San Cristobal Islands. Finally, enjoy Guayaquil (known as La Perla del Pacifico, is the largest and the most populous city in Ecuador). These destinations are connected by intercity flights and Public Transfer/Speedboat (Santa Cruz/San Cristobal). This is a flexible vacation package. Select your number of nights in each city, desired hotel and activities.
1 Customer Reviews
Other Galapagos Islands (San Cristobal) Vacation Packages:
Map of San Cristobal Island
Galapagos Islands (San Cristobal)
Map of Point of Interest
Islands of Galapagos
Situated in the center of the archipelago and the second largest island after Isabela. Capital is Puerto Ayora, the most populated urban centre in the islands.

Situated in the western edge of the archipelago and the largest island of the Galapagos, with an area of 1790 square miles and length of 62 miles.
SUGGESTED Galapagos Islands (San Cristobal) VACATION PACKAGES:
Quito - Santa Cruz Island - San Cristobal Island

6 nights from $1,896*

The Ultimate Ecuador Adventure!. Discover its capital city; Quito and enjoy history, colonial sites and cultural heritage; and up next fly to The Galapagos Islands two visit these two main destinations. First is Santa Cruz Island (world renowned for the Charles Darwin Station, which is home to giant Galapagos Tortoise); and after that, with a transfer, visit San Cristobal Island (home to the oldest permanent settlement of the islands and is the island where Darwin first went ashore in 1835). Fly back to Quito for one last stay, before returning home. This is a flexible vacation package. Select your number of nights in each city, desired hotel and activities.

Included:

Flight into and out of Quito
Hotel for 1 nights in Quito
Flight Quito to Santa Cruz (Galapagos Island)
Hotel for 2 nights in Santa Cruz (Galapagos Island)
Private transfer + Public speedboat to San Cristobal Island
Hotel for 2 nights in San Cristobal (Galapagos Island)
Transfer from Hotel in San Cristobal (Galapagos Island) to Airport
Flight San Cristobal Island to Quito
Hotel for 1 night in Quito

Customer feedback (2)

---

---
CUSTOMER REVIEWS
4.7 out of 5 stars
►
1 Reviews
Galapagos Islands (San Cristobal): Point of Interest Map