Porto Vacation Packages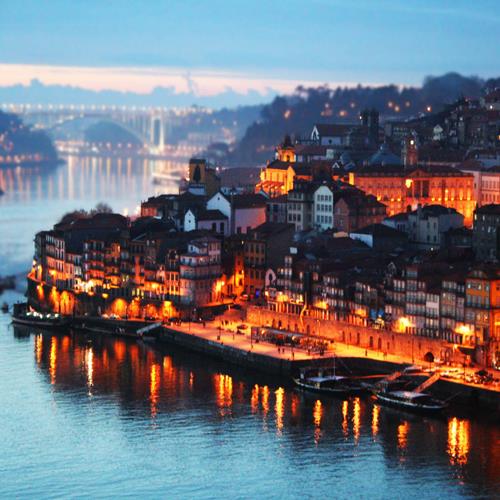 Porto, `the Invincible City,` is one of the oldest European cities, having been conquered by the Celts, the Romans and the Moors, all before the 11th century. Porto was long valued as a trading outpost adjacent to the Atlantic Ocean; its location on the River Douro is just three miles from the wide open sea. The city`s long history is evident when you stroll the winding back streets of the city center, which was named a UNESCO World Heritage Site in 1996. Porto, the second-largest city in Portugal, is also a hub for shopping, music, art, entertainment, and culture for the north of the country.

Enjoy a Francesinha (a Porto delicacy!) and a chá (tea) at the numerous cafés around town; see some of the breathtaking architecture and history at sights like the Porto Cathedral, Porto City Hall, and the Muralha Fernandina; shop for hours at the shops in Baixa and Cedofeita; and sample a glass or two of delicious port wine (the area around Porto is world-renowned for its port!). Once you're there, you will see why this city was named Best European Destination for 2017 in a worldwide poll of travelers (the only city that has earned such a distinction three times!).
Best Porto Vacation Packages:
Map of Porto
Map of Point of Interest
See All Regions of Portugal
›
SUGGESTED PORTO VACATION PACKAGES:
6 nights from $819*

6 nights from $1,026*

Porto and the Costa Verde (Self Drive)

Porto and Sao Miguel by Air

Barcelona and Porto by Air

6 nights from $965*

Porto and The Douro Valley (Self Drive)

Sao Miguel and Porto by Air

Porto - Lisbon and Terceira

9 nights from $1,437*

Porto and Lisbon by Train

6 nights from $992*

Sao Miguel and Lisbon - Porto

9 nights from $1,164*

Faro - Lisbon - Porto by Train

9 nights from $1,843*

Lisbon - Braga - Porto by Train

8 nights from $985*

Lisbon - Coimbra - Porto by Train

8 nights from $989*

Lisbon - Fatima - Porto (Self Drive)

8 nights from $988*

Madrid and Lisbon - Porto

Malaga and Lisbon - Porto

9 nights from $1,146*

Barcelona - Lisbon - Porto by Air

8 nights from $1,106*

Lisbon - Obidos - Porto (Self Drive)

8 nights from $1,022*

Lisbon - Porto and Amsterdam

Lisbon - Porto and Barcelona

Lisbon - Porto and Madrid

9 nights from $1,045*

Porto - Braga - Lisbon by Train

8 nights from $988*

Porto - Coimbra - Lisbon (Self Drive)

Porto - Coimbra - Lisbon by Train

Porto - Lisbon and Sao Miguel

9 nights from $1,279*

Porto - Lisbon - Faro by Air

9 nights from $1,229*

Terceira Island and Lisbon - Porto

9 nights from $1,470*

Porto - Madeira Island - Lisbon by Air

9 nights from $1,309*

Portuguese Beaches (Self Drive)

12 nights from $1,295*

Lisbon - Coimbra - Costa Verde - Porto (Self Drive)

8 nights from $1,019*

Porto - Coimbra - Lisbon - Faro by Train

10 nights from $1,235*

Porto - Coimbra - Fatima - Lisbon (Self Drive)

8 nights from $1,101*

Porto - Braga - Guimares - Duoro Valley (Self Drive)

9 nights from $1,065*

Lisbon - Porto and Prague - Vienna

12 nights from $1,249*

Lisbon - Porto and The Douro Valley

8 nights from $1,149*

Lisbon - Obidos - Fatima - Coimbra - Porto (Self Drive)

12 nights from $1,183*

Lisbon - Obidos - Guimares - Porto (Self Drive)

8 nights from $1,015*

Porto - Lisbon and Seville - Madrid

12 nights from $1,424*

Porto - Coimbra - Silver Coast - Lisbon (Self Drive)

8 nights from $1,044*

Lisbon - Cascais - Costa Azul - Evora - Fatima - Nazare - Coimbra - Porto (Self Drive)

14 nights from $1,489*

An Explorer`s Journey (Self Drive from Porto to Faro)

14 nights from $1,535*
CUSTOMER REVIEWS
4.7 out of 5 stars
►
269 Reviews
Really loved both of our hotels. The Porto hotel seemed a little out of the way but was very comfortable with a beautiful bathroom and as always, very ...

Traveled on: March 06

The entire trip was exactly as described and was without any surprises, glitches or disappointments. Our overseas flights were with Delta who does a s ...

Traveled on: March 02

We booked our accommodations thorough you and we could not have been happier!

The LX Boutique Hotel in Lisbon was exquisite, elegant, comfortable ...

Traveled on: March 01

The trip was a complete success, great job with booking the flights and hotels.

Reinier L ...

Traveled on: February 22

Everything went as planned -- air travel, train travel, and hotels. No issues.

Kelly S ...

Traveled on: February 18