[tmpagetype=city]
[tmpagetypeinstance=gp3]
[tmrowid=]
[tmadstatus=]
[tmregion=europe]
[tmcountry=]
[tmdestination=avignon]
Avignon Vacation Packages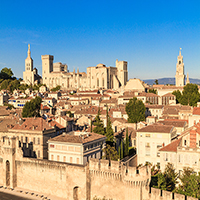 The historic city of Avignon, on the Rhone River in Provence, is a beautifully preserved medieval town surrounded by the original fortified city walls. The city awes visitors with its stunning Papal Palace, one of the most important gothic buildings in Europe, which is also one of the most impressive buildings. However there are many other important attractions in Avignon, including a wealth of beautiful buildings, historical churches, a fine collection of museums, and lots of cafes and bars. Avignon is known as a center of art and culture. The city hosts a variety of festivals and events throughout the year, from the International Jazz Festival and the Epicurean Festival in the summer to a traditional Christmas market in December.
Best Avignon Vacation Packages:
9 nights from
$1,379
*
An excellent combination of cities to explore France! Visit Paris (The city of lights with impressive monuments, museums, culture and gastronomy); Avignon (a medieval city known for its architecture, strong art community and Papal history) then continue to Nice (capital and gateway to the Riviera, with its brilliant sunshine and relaxed living). Travel between these cities on the TGV train. This is a flexible vacation package. Select your number of nights in each city, desired hotel and activities.
Other Avignon Vacation Packages:
Map of Avignon
Map of Point of Interest
SUGGESTED Avignon VACATION PACKAGES:
Footsteps of Cezanne and Van Gogh

7 nights from $1,393*

14 nights from $2,016*

8 nights from $1,119*

8 nights from $1,298*

Nice - Avignon - Marseilles by Train

9 nights from $1,312*

Paris - Avignon - Arles by Train

7 nights from $1,843*

Paris - Lyon - Avignon - Arles - Barcelona by Train

10 nights from $2,550*

Le Chemin de Amour by Train

13 nights from $1,896*

Paris - Annecy - Provence - The French Riviera - Lyon by Train

15 nights from $2,275*

Marseille - Arles - Avignon - Lyon - Beaune - Paris by Train

12 nights from $2,364*

13 nights from $2,170*
CUSTOMER REVIEWS
4.7 out of 5 stars
►
7 Reviews
It was difficult to book seats on our flights. The website stated they were unable to be booked. We were using Delta and also Air France through Delta ...

Traveled on:9/20/2023

The hotels were unacceptable. The one in Paris refused to allow me to pay for an additional night when I had an emergency in Paris and asked them if ...

Traveled on:6/30/2023

----- No customer comment ---- ...

Traveled on:5/23/2023

Everything worked out fine except the airline reservations. Air Canada was the primary booking airline and United was the secondary airline. Upon chec ...

Traveled on:5/20/2023

Our trip to Paris-Avignon-Nice France was perfect. Since you are able to search different flights, hotels, etc. when setting up the package, you can ...

Traveled on:4/7/2023
Avignon: Point of Interest Map

.